Your Dentist May Save Your Life
|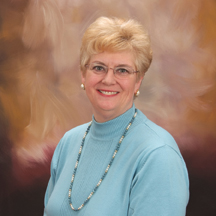 By Anna Giacalone, D.M.D.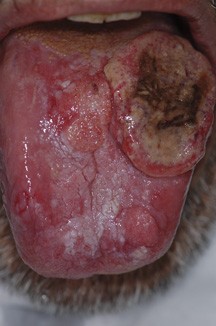 Your routine dental exam includes more than looking at teeth and gums. The dentist also checks the mouth, face, throat, and neck glands for signs of cancer. A routine dental x-ray may reveal a bony cancerous lesion.  Many times the x-ray is the first and only sign of the disease in its early stages.
According to the National Cancer Institute, oral and throat cancer affects an estimated 43,250 Americans each year.  Of those an estimated 8,000 will die of the disease.  There is about only about a 50% five year survival rate of those diagnosed with this type of cancer largely because it is too often first detected in advanced stages.  As with all cancers early detection and treatment are key to a successful outcome.
Risk factors include male sex (twice the incidence of female for cancer of mouth and throat), tobacco use, both smoked and chewed, and alcohol consumption.  The risk is greatly increased when there are multiple risk factors.  Ultraviolet light is a risk for cancers of the lips and face.  The above risk factors are well known but there is a growing risk that is seldom discussed, infection with the Human Papilloma Virus, (HPV).
HPV, usually associated with genital warts and cervical cancer, seems to play a significant role in the development of mouth and throat cancers.  At this writing there is no clear agreement in the medical community if HPV causes mouth and throat cancers but there is clearly a very strong association.  Some studies suggest that the virus may interact with the alcohol and smoking to increase an infected individual's cancer risk.  A research study, published October 2011, reports that HPV related mouth and throat cancer more than doubled in the US between 1980 and 2004.
The most common head and neck cancer seen in HPV infected patients is tonsillar cancer.  It is believed that oral sex is the vehicle that introduces the HPV virus to the posterior oral cavity.
Of the many species of HPV virus, it is the HPV16 which seems to play a significant role in mouth and throat cancer.   Since this HPV16 is targeted by the HPV vaccine it is possible that the vaccine may help prevent these head and neck cancers as well.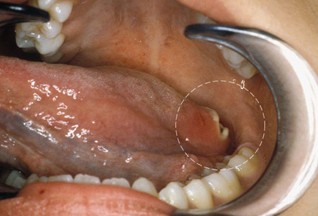 Prevention of mouth and neck cancers is of course most desired.  Refrain from tobacco use, both smoked and chewed.  Limit alcohol consumption.  Wear sunscreens with high SPF values and protective clothing.  Practice safer sex,even when engaging in oral sex.  Consider immunization with the HPV vaccine.
After reducing one's risk of head and neck cancer, early detection and treatment is essential for a favorable outcome. Be aware of the signs and symptoms of these cancers. White patches which do not rub off (leukoplakia), red erosive lesions (erythroplakia), lumps or thickening of oral soft tissues.  Difficulty in chewing, swallowing, or moving the jaw, sore throat, a feeling that something is caught in the throat, hoarseness or change in the voice as well as loose teeth could be indicative of a cancer.
Unfortunately cancer symptoms are very similar to several other common and less serious conditions. Succinctly, here is potentially lifesaving advice:  If any ulcer, lump, sore lasts more than TWO WEEKS see a dentist or medical doctor. If you have any of the signs and symptoms discussed above see your dentist or medical doctor!  See your dentist at least twice a year and your medical doctor at least annually so that a professional exam made be performed to screen for early signs of cancer and other disease.  If your dentist or healthcare professional is not routinely screening for head and neck cancer find one who does.  Your life may depend upon it.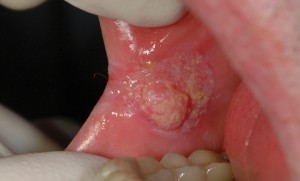 Testimonials:
Thrilled to be with this dentist!
I was in the market for a new dentist and received a great referral from a friend. Very thorough examination and friendly staff. I feel like I'm definitely in good hands.
My dentist gives me confidence!
Doctor Anna and her staff are always very accommodating and careful! I appreciate their thoroughness and thoughtfulness! – Margaret M. 1/12/15
Very thorough exam!!
Very satisfied! – Sylvia K. 4/21/14
– See more at: http://anna-giacalone-dmd-inc.nationaldentalreviews.org/#sthash.RFyXoRTC.dpuf
Anna C. Giacalone, DMD, MAGD
Master of the Academy of General Dentistry
Education:
• BS. Biology Chestnut Hill College
• DMD. University of Pennsylvania School of Dental Medicine
• Certificate and Internship: Comprehensive Orthodontic Institute
• Certificate: prestigious Dawson Academy of Advanced Study
Awards:
• Pennsylvania Dental Association Award for Excellence during the four years of dental school
• Top Cosmetic Dentist Main Line 2007, 2011-2014 (chosen by peers)
• Top Dentist in Delaware Valley, 2008; Delaware Valley Consumer Checkbook    (chosen by patients)
• America's Top Dentists 2010 – 2014 Consumer Research Counsel
• Mastership in the Academy of General Dentistry 2013
To learn more visit her web site: www.giacalonedmd.com