Planning For Pregnancy Helps Keep Mother And Baby Healthy
|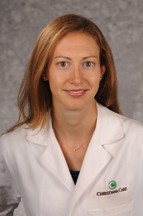 By Susan F. Wilson, M.D., MSc Director, Family Planning and Adolescent Services
The overwhelming feelings of joy and love you have when you hold your newborn baby are feelings that cannot be duplicated and really cannot be put into words. Typically, the moment you hold your baby is one of the happiest moments in any women's life.
As healthcare providers, we know that planning your pregnancy is one of the most important things a woman can do to make sure she has a healthy, happy baby and that she is healthy after the baby is born and ready to guide her child through life. Planning your pregnancy involves many things: getting any medical problems under control, healthy eating and staying fit, limiting alcohol, and not using drugs and tobacco. It also means, thinking about your ability to raise a child at this time in your life; can you afford a baby, is your work schedule flexible, do you have other children and how will they be affected?
If you just had a baby, it's better to wait a while to become pregnant again. Why wait? It takes at least a year for a mother's body to recover from the demands of pregnancy and childbirth. Being in healthy shape yourself decreases the risk of having a premature baby, or one with a low birth weight.
Advances in birth control are making it much easier for a woman to plan every pregnancy which is good news for women, especially in the state of Delaware, which has one of the highest rates of unplanned pregnancies and abortions in the country. Christiana Care Health System is participating in a new state initiative to help improve a woman's access to all types of birth control so they can protect themselves from becoming pregnant until the time is right.
Many birth control methods to choose from
There are many birth control options available. The ones that most women know about are the pill, patch, vaginal ring, diaphragm, female and male condom, emergency contraception and sterilization.
If you want something as good as sterilization but reversible, in case you want more children in the future, there are two types of long-acting reversible contraception, or LARC. These include the intrauterine device (IUD), which is inserted into the uterus, and the implant that is put under the skin of the arm. These methods are extremely safe and effective, with failure rates less than 1 percent, mainly because the LARC method is on-going and so you don't have to remember to do anything (like take a pill or buy a condom). The implant and the IUD can be inserted at your doctor's office – often during the same visit you schedule to discuss your options with your doctor. Either type of LARC can be kept in place for years, and easily removed by your doctor in the office if you decide you want to become pregnant. It's a good idea to say you might be interested in getting a LARC, even if you're not sure yet, when you make your appointment with your doctor so the office can check if your insurance covers the method. That way, if you want a LARC method that day, your doctor can give it to you right away.
Affordable, available the same day and right after your deliver your baby
For women with Delaware Medicaid all LARC devices are covered. Starting last year, through the state program Delaware CAN (Contraceptive Access Now), women with Medicaid can also get LARC devices immediately after giving birth before going home from the hospital.
For women not on Medicaid, most all insurance companies cover LARC devices and after you deliver your baby, the device can be placed at your 6 week postpartum visit.
Who is choosing LARC?
LARC is becoming much more popular, mainly because it is so effective and doesn't require a woman to do anything for it to work. Hundreds of women giving birth at Christiana Hospital have chosen LARC – many are requesting the device right after their baby is born. Its popularity ranges from teens to older women.
Giving a woman control over her reproductive health allows her to choose pregnancy when her body is the healthiest. It gives her time to pursue educational and professional opportunities so that she is in a good place to support a family. And, children who grow up in homes with more resources tend to do better in life themselves.
Call today to make an appointment with Susan F. Wilson, M.D., MSc, Director, Family Planning and Adolescent Services.
Christiana Care Center for Women's OB-GYN and Reproductive Health
Medical Arts Pavilion 2, Suite 1109 
4735 Ogletown-Stanton Road Newark, DE 19713
302-623-4175