Publisher's Note

3rd Quarter 2022
Dear Readers
It has been a bit of a crazy weather pattern this year with tons of rain, cold, and now boiling hot. But I will take the warm weather any day over cold. 
This spring we received a beautiful baby boy named Bodhi Anders Kingree into our family in March. As you can see by the photo, sister Simone is very happy with her new baby brother. Mom and dad are extremely sleep deprived, but this should change soon we all hope.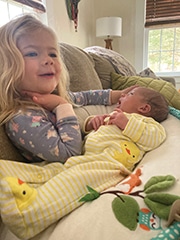 Simone Jewel will be celebrating her 3rd birthday in July, and she has definitely changed in the last year. The pool and the beach are still her favorite things during the summer, and of course going camping with her grandparents. We are still working on the swimming thing, but I am sure very soon she will have that under control. All my grandchildren are very sweet and unique, so I feel very blessed to have been graced with so many. 
We appreciate all our contributors and hope that you will let them know that you saw them in The Women's Journal and that you appreciate that they take the time to educate.  
If you can't find a copy of The Women's Journal, do not hesitate to contact me directly at [email protected]
Things are starting to open for us with distribution, so if you have had trouble finding your copies in your normal locations, don't fret because we are hoping to get back into most of our previous locations in the next few issues.
Please have a wonderful summer and stay SAFE!                                       
Pamela Rizzo, Publisher