Does Your Neck Make You Look Old?
|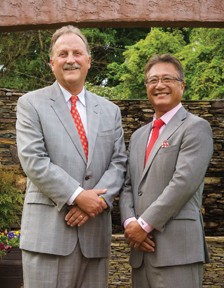 By Dr. Gary Wingate & Dr. Paul Kim
New Procedures to Improve Your Face, Neck, Skin, and Hairline!
Plastic and Reconstructive Surgery of Chester County is excited to introduce two of their newest procedures: Platelet Rich Plasma (PRP) therapy and the PrecisionTx laser treatment by Cynosure. Drs. Kim and Wingate are trusted plastic surgeons in the area. Voted "Top Doc" by their patients and peers, as surgeons who have made a positive impact in their field. Dr. Kim and Dr. Wingate have worked hard to bring state-of- the-art, minimally invasive, non-surgical treatments and procedures to their patients. They have researched the latest medical and scientific literature and have conducted clinical research through ASPS. Through this research they have brought new technology into their practices. Two of these new procedures are the Platelet Rich Plasma (PRP) therapy and the PrecisionTx laser treatment by Cynosure.
PrecisionTx
The Precision Tx laser from Cynosure is used to give patients a more defined neck and jawline without surgery. This revolutionary procedure is used to enhance and revitalize the lower face and neck. This one time treatment is done right in the office and only takes about an hour. After numbing the treatment area, the doctor makes tiny incisions to fit a very small cannula with a laser fiber the size of a pen tip underneath the skin. Thermally controlled laser energy is then delivered to the treatment area removing fat and stimulating collagen production in the dermis. The end result is improved skin elasticity, thickness and texture. The skin along the jawline is tighter and the neck is slimmer.
PRP Therapy For Hair Loss And Thinning
The human body has the ability to heal itself through using special cells and circulating vital nutrients through the circulatory blood system. Platelet Rich Plasma (PRP) Therapy involves using one's own nutrients in the blood system to promote healing and rejuvenation of skin, bone, cartilage and muscle. This procedure works by drawing a small amount of blood from your arm. The blood is placed in a centrifuge and spun separating the plasma from the rest of the blood. This produces the PRP, which can then be harvested. Using a small, sterile needle, the PRP is injected back into the patient's scalp, eyebrows, scars, lines/wrinkles or skin.
Dr. Kim and Dr. Wingate are using PRP therapy to treat patients who suffer from hair loss or thinning hair. For these patients, PRP is injected into the scalp where the hair is visibly missing or thinning. These injections increase the survival of the hair follicles and stimulate new hair growth. There is also improvement in the thickness and health of the hair shaft. PRP has been used successfully worldwide to treat thinning hair and is effective for both men and women regardless of age!
If you are seeking the most advanced cosmetic and reconstructive surgery procedures in the Philadelphia metro and Main Line regions, Plastic and Reconstructive Surgery of Chester County should be your first choice. Their board-certified doctors include the heads of plastic surgery at Brandywine, Chester County, and Paoli Memorial hospitals. Drs. Kim and Wingate have an amazing breadth of training and experience ranging from non-surgical injectable filler treatments to liposuction, thigh and breast lifts, facelifts, body contouring, hair replacement, microdermabrasion, Botox treatment, and facial implants. Dr. Kim and Dr. Wingate truly believe in these revolutionary procedures to revitalize the skin of the face and neck and to stop hair loss. For more information or to schedule an appointment for a consultation please call . . .

Plastic & Reconstructive Surgery 
of Chester County
Paul S. Kim, MD & Gary F. Wingate, MD
www.PlasticSurgeryOfChesterCounty.com
Call Us  At: (610) 524-8244
Two Locations:
460 Creamery Way in Exton
& 
30 Darby Road in Paoli