Artisans' Bank Builds New Facility in Rehoboth
|
Artisans' Bank is gearing up for the grand opening of its new Rehoboth Branch and Business Center this spring. The new facility, located on Route 24 at the southeast corner entrance of the Beebe Healthcare Campus between Lewes and Rehoboth Beach, will function as a regional branch office and lending center that caters to both the consumer and commercial banking needs of the community.
Artisans' Bank Senior Vice President and Chief Lending Officer Dave Ferguson said the experienced team at Artisans' Rehoboth Branch is ready to continue building and strengthening relationships with residents and businesses of Sussex County. "One of the great things that we have in this market is a really strong team," said Ferguson. "Our Rehoboth Branch is comprised of very strong bankers including our lenders who live here in Sussex County. With this dedicated and engaged team, Artisans' Bank is well-positioned to further enhance our presence and contributions to the coastal communities of Sussex County. 
The new branch will offer customer service stations along with a small business center, coffee bar, 2 drive-up banking lanes, a drive-up ATM, and a night depository. There will also be a lending center attached to the branch to facilitate commercial and consumer lending within the community.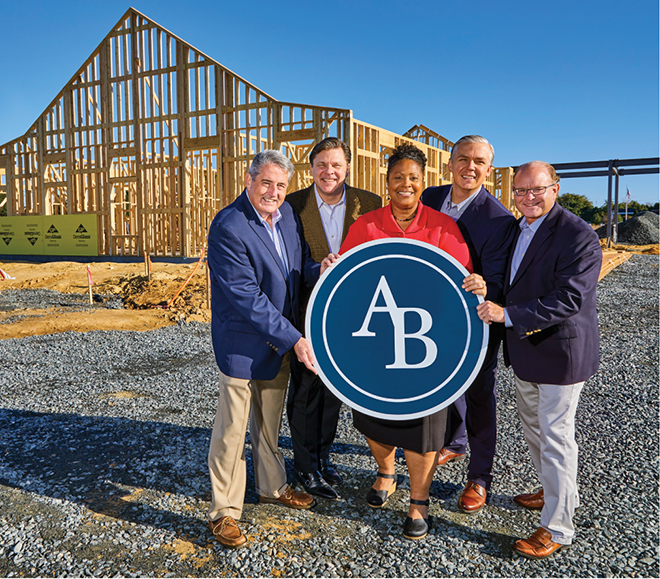 SVP Retail Kevin McCormick, VP Commercial Banking Greg Makosky, Commercial Lending Relationship Manager Monique Wannamaker, VP Commercial Banking Kirby Fitzgerald and SVP & Chief Lending Officer Dave Ferguson at the construction site of Artisans' Bank new Rehoboth Branch and Business Center.
Beth Albano, President & CEO of Artisans' Bank said, "We are excited to continue to invest in and serve the Rehoboth Beach and Sussex County markets. The relocation of our current Rehoboth operations to our new facility on Route 24 allows us to better serve the local community by providing convenient access to our full complement of retail and commercial banking products and services. We are looking forward to providing our existing and future customers with Artisans' exceptional service from our new location."
The Artisans' Bank team is excited for the future at its new location. "I look forward to continuing and growing Artisans' Bank's partnership with Sussex County.  We have the foundation to make great things happen over the next 10 years," said Ferguson.
Artisans' Bank, founded in 1861, is a locally managed, mutually owned, community bank headquartered in Wilmington, Delaware. The bank has twelve branches located throughout Delaware with two community-based lending hubs in Kent and Sussex counties. Artisans' offers a full range of consumer and commercial banking services to its customer base in the State of Delaware and contiguous counties in Pennsylvania and Maryland.  Member of FDIC, Equal Housing Lender, NMLS#774924.
Artisans' Bank