Artisans' New Rehoboth Bank Almost Ready
|
Artisans' Bank is pleased to announce the opening of the new Rehoboth Branch and Business Center. The new location will house a full-service retail bank along with commercial, consumer and mortgage lending offices. The facility will also provide a small business center, coffee bar, two drive-up banking lanes, a drive-up ATM, and a night depository. The new Rehoboth Branch and Business Center will greatly complement Artisans' existing Kent and Sussex County branches located in Dover, Milford, and Millville.
"We are excited to continue to invest in and serve the Rehoboth Beach and Sussex County markets," said Beth Albano, President & Chief Executive Officer of Artisans' Bank. "The relocation of our current Rehoboth operations to our new facility allows us to better serve the local community, providing convenient access to our full complement of retail and commercial banking products and services."
Artisans' Bank acquired the site on Route 24 adjacent to the Beebe Healthcare Campus confident that growth in the area would turn their vision of this location into reality.
"Over the past two decades, Artisans' Bank has played an integral role in supporting the sustained growth of Sussex County. The new Rehoboth office provides our team and customers with a welcoming, state-of-the-art facility for all to enjoy," said Chief Lending Officer David Ferguson.
Teamwork and dedication to the needs of the community have contributed to Artisans' growth and enduring presence throughout the state, with a relationship-based strategy that fosters strong ties within the communities they serve.
Being a community bank gives Artisans' an edge when it comes to customer service. Employees and management live in and engage with the communities they serve, and loan decisions are made locally, in the community.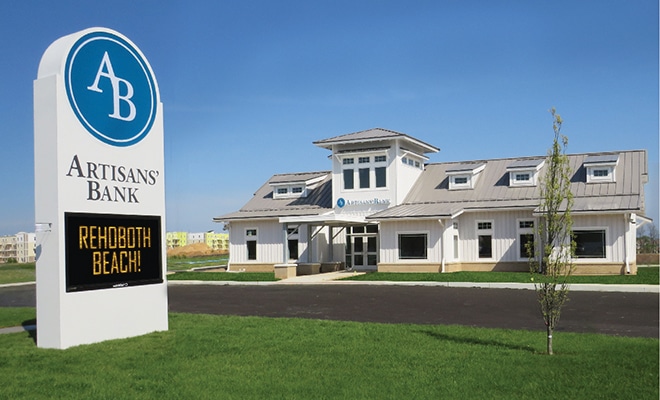 Artisans' new Rehoboth Branch & Business Centeron Route 24 at Beebe Road
"Our culture is service oriented," said Joanne Williams, Rehoboth Branch Manager.  "Artisans' maintains a staff of long term, engaged employees who embody the mission of service to our customers, communities, and each other." 
The community bank model allows the team at Artisans' to be more flexible than larger banks and gives them the ability to work directly with customers providing loan and deposit products that meet their needs.  
Artisans' also has the advantage of being a mutual bank, owned by its customers rather than held by shareholders.
"Artisans' mutual bank corporate structure is what differentiates us from other community banks," explained Albano. "As a non-public business entity, we are not beholden to the influences of shareholders nor driven by short-term profits. Our mutuality provides us the unique opportunity to prioritize our customers and their financial needs while accomplishing long-term corporate goals."
Artisans' Bank invites you to visit the new Rehoboth office and see how we can help you and your business build for the future.
Founded in 1861, Artisans' Bank (Total Assets $675 million as of 03/31/2022) is a locally managed, mutually owned, community bank headquartered in Wilmington, Delaware with 12 retail branch locations and 2 community-based lending hubs in Kent and Sussex County. The Bank offers commercial and retail banking services in Delaware and contiguous counties in Pennsylvania and Maryland. Member FDIC. Equal Housing Lender. NMLS#774924. Visit artisansbank.com for more information. 
Artisans' Bank