Thyroid Disease – Management & More!
|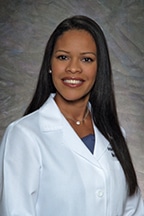 By Bernadette Thomas, DNP, APRN, FNP-C
Owner of Monarch Wellness Center 
Board Certified Family Nurse Practitioner 
Adjunct Associate Professor at Georgetown University 
My story
In 2012, I was suffering from thyroid toxicosis as a result of Graves' disease. Sadly, after radioactive iodine (RAI) treatment I did not respond well to the traditionally prescribed levothyroxine. I felt awful on levothyroxine after RAI treatment, my healthcare provider told me "everything was fine" and I was referred to mental health because my symptoms were "all in my head." But I was not fine, not even close. I struggled with hypothyroid symptoms for months and could not live my life fully as a mother, a wife, and a nurse practitioner. Consequently, I drove hours into nearby states searching for a provider who would listen to me and help me deal with my symptoms. Finally, after many months of searching, I found someone who explained why I was feeling so terrible on levothyroxine. Thankfully, my new provider listened and taught me a great deal about thyroid disease and explained how my body used levothyroxine. This new information was life changing. This person helped me feel better again and this experience fueled my interest in thyroid disease and treatment. 
"Normal range"
Thyroid disease is not a "one size fits all" disease and many patients are becoming frustrated by "one size fits all" management. Typically, when healthcare providers assess patients for thyroid function, they order the standard Thyroid Stimulating Hormone (TSH) test and maybe a Free T4 test. If labs are found to be "in normal range," often symptomatic patients will remain symptomatic and leave their appointments feeling disappointed. An important point to remember about the "normal range" is that it may not be "normal range" for the patient and care should be adjusted primarily based on symptoms while monitoring lab values..
Individualized care
The management of thyroid disease leaves many patients feeling unheard, frustrated, and symptomatic. Thyroid hormones affect nearly every cell in the body. Therefore, symptoms of thyroid disease may appear from anywhere in the body and all symptoms should be considered important. The primary focus of appointments should be on how patients feel while keeping an eye on thyroid lab values. Hence, thyroid labs should be drawn more often than once or twice a year. We listen very closely to our patients to get the whole story because every detail is important, no matter how insignificant it may seem. We want to create individualized treatment plans to get our patients feeling their best.. 
Food choices
Many foods can affect the way the body makes and uses thyroid hormones. Some foods may drive-up thyroid antibodies and should certainly be avoided. Finding out what foods should be avoided may require a comprehensive food sensitivity test. This test identifies the culprits causing inflammation, which can lead to fatigue, headaches, insomnia, joint/muscle pain, IBS, skin eruptions, and more. We use a non-IgE mediated food and food-chemical hypersensitivity test (drawn in our office) to find the food and chemical triggers.  
Thyroid medications & supplements
Thyroid disease often requires management with prescription medication. Today there are several types of medication available to help manage thyroid disease, and providers like myself will prescribe these medications based on diagnosis and individual needs. An initial comprehensive visit is paramount to select the right medication. Patients who take thyroid medications need monitoring for treatment success, which may require frequent symptom checks, laboratory tests, and medication adjustments to reduce thyroid symptoms and optimize wellbeing.  
In addition to prescription thyroid medications, there are several supplements that can help improve thyroid function. Many vitamins and minerals help the body make and use thyroid hormones. Individualized treatment plans help decide the best supplements to correct nutrition deficiencies like vitamin D, iron, zinc, selenium, and more. We have an on-site inventory of pharmaceutical grade supplements available, or we will gladly direct you to higher quality over-the-counter products. Correcting deficiencies is pivotal towards improving thyroid health.  
Other services at Monarch Wellness Center
Our primary focus is thyroid care, but we offer a few other services too. We provide weekly Semaglutide for weight loss and a variety of IV therapies from Myers' cocktail to sports performance. We offer hormone replacement therapy (HRT). We offer Hyfrecation treatments to improve various skin imperfections. We have medical grade ZO® Skin Health products and treatments. We also offer InMode technological advancements like DiolazeXL (cool laser hair removal), Vasculaze (spider vein treatment), Morpheus8 (skin tightening – Bernadette's favorite), and Lumecca (sun damage treatment) which are minimally invasive & non-invasive procedures that provide amazing results. Please call 302-482-2289 for an appointment.
For More Information call (302) 482-2289
www.monarchwellnesscenterdelaware.com
2601 Annand Drive Suite 17, Wilmington Delaware 19808