This Was My Lucky Day!
|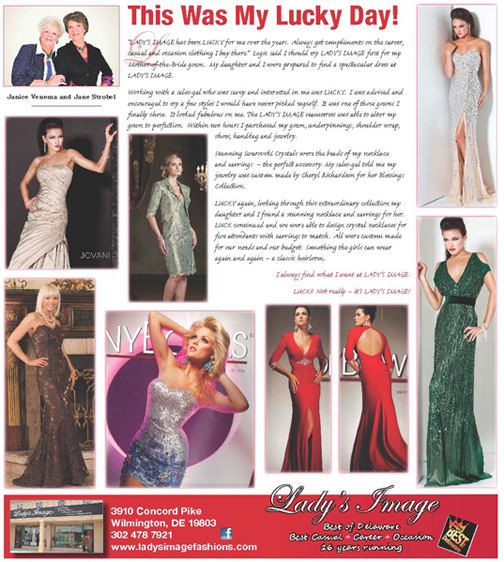 "LADY'S IMAGE has been LUCKY for me over the years.  Always get compliments on the career, casual and occasion clothing I buy there."  Logic said I should try LADY'S IMAGE first for my Mother-of-the-Bride gown.  My daughter and I were prepared to find a spectacular dress at LADY'S IMAGE.
Working with a sales-gal who was savvy and interested in me was LUCKY.  I was advised and encouraged to try a few styles I would have never picked myself.  It was one of those gowns I finally chose.  It looked fabulous on me. The LADY'S IMAGE seamstress was able to alter my gown to perfection.  Within two hours I purchased my gown, underpinnings, shoulder wrap, shoes, handbag and jewelry.
Stunning Swarovski Crystals were the beads of my necklace and earrings  – the perfect accessory. My sales-gal told me my jewelry was custom made by Cheryl Richardson for her Blessings Collection.
LUCKY again, looking through this extraordinary collection my daughter and I found a stunning necklace and earrings for her.  LUCK continued and we were able to design crystal necklaces for five attendants with earrings to match.  All were custom made for our needs and our budget.  Something the girls can wear again and again – a classic heirloom.
I always find what I want at LADY'S IMAGE.
LUCK?  Not really – it's LADY'S IMAGE!
3910 Concord Pike
Wilmington, DE 19803
302 478 7921