Make His Heart Skip A Beat, Take His Breath Away…..Say "I Do"
|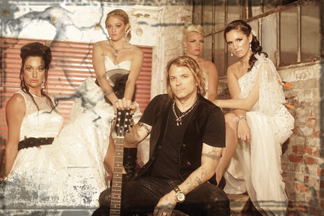 Brides and Braids
Rock n Roll Craze
by J Christian Studio
Your entire wedding begins the moment you begin your walk down the aisle. There are other key moments in your wedding like your first dance or the exchange of vows, but the first (and most important) is when the bride walks down the aisle.
Most likely you have worked together on many aspects of the wedding and you're both aware of the majority of the details; but when the veil is lifted and you lock eyes with your groom, for a millisecond you will find yourselves transcended into a moment of complete intimacy!
This moment is epic for most grooms and imprinted on him forever. Make his heart skip a beat and take his breath away and he'll be ready for "I do".
The Entire Package
The average wedding costs $5,000 per hour. Photos and video document this day for a lifetime, for generations. You've found your dream wedding gown and perfectly pretty pumps, but what about hair and makeup? It's an important element to consider, since your style will tie your entire bridal look together.
Professional hairstyling and makeup will enhance your beauty, carry your theme and endure the rigors of the celebration. Wedding style is timeless yet succumbs to fashion trends of the season. If you're a bride in 2013 you have plenty to be excited about! You will however need a talented and enthusiastic hair stylist to see you through.
2013 Bridal Trends
You will find the trends versatile, interchangeable, and easily mixed and there is something for all hair types.
Gatsby-Inspired Finger Waves: We love this at the studio! We rarely see a bride ready to take this kind of risk. 1920s glamor is not for everyone, but we do see the trend of finger-waive hairdos on the rise.
Braids: Braids are everywhere and brides are taking note. There are many creative ways to wear this romantic and timeless wedding style  – as a headband, a fishtail braid, a wrap-around or rope braid. Braids can be tight or loose, in an updo or in a ponytail.

Flower crowns: Brides are turning to the floral headpiece, flower wreath, crown or headband as an alternative to

thetraditional veil. This look can be vintage, whimsical or bohemian inspired.  Long, soft curls under a hair crown create an elegant and romantic look. Shorter hair with the right headpiece can achieve a sweet or edgy look.
Bouffant 'dos: This elegant hairdo styled to puff-perfection, tamed fly-aways with extra hold hairspray  and finished look with a simple and sweet headband is hot this season. You can wear it sans headband or ponytail style. Either way, this style works for both the modern and vintage bride.
Accessorized hairstyles: It's all about the accessories – oversized flowers, vintage hair pins and modern headbands! Big and bold, small and simple or colored and vibrant – there is an accessory for every bride and every hair type.
We Don't Do Bad Hair Days (Pre-Wedding Checklist)
Even an international platform artist and educator with more than 30 years in the business will be hard-pressed and challenged to turn dry, broken, damaged and brittle hair into aisle worthy bridal material on a week's notice. If your goal is coiffed perfection, follow these guidelines for best results.
6 Months Before – Experiment with different cuts and colors, find your look and begin a hair care  routine that includes regular deep conditioning treatments and trims every 4–6 weeks.
4 Months Before – Schedule your hair and makeup bridal trial, reserve your wedding date and bridal party services on the salon's schedule.
2–3 Months Before – Collect photo inspiration of different hair and makeup styles you'd like to see at your bridal trial.
1 Month Before – Get your hair and makeup trial completed together.  This allows enough time before the wedding if you want to try a new style but is close enough to keep your look fresh.
2 Weeks Before – Get your final hair trim and deep conditioning treatment, touch up your color and/or highlights.
Day of – Receive your hair and make-up services. It is recommended that these be the only services you receive on your actual wedding day.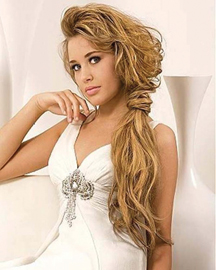 My very best wishes for
the fairy tale wedding
of your dreams.
J Christian Studio is an award-winning, upscale salon located in Hockessin, Delaware. We are accredited by the Better Business Bureau of Delaware and recipient of a Torch Award for Market Place Ethics. The salon is the concept of J Christian, an International Platform Artist and Master Educator and a Member of the New Castle County Chamber of Commerce.