The Delaware Hospice Center
|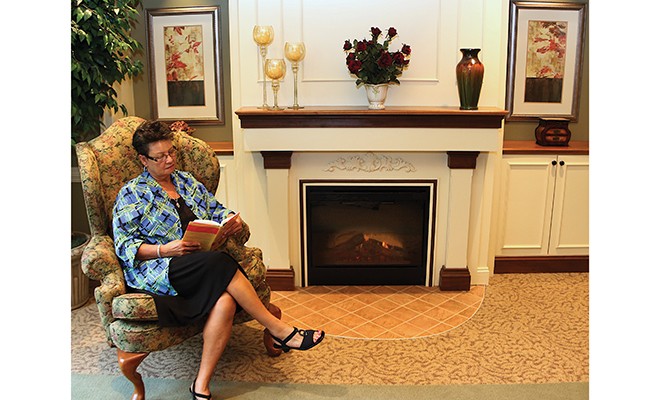 Over 96% of Delaware Hospice patients receive care at home, but there are circumstances that require 24-hour, short term care. Patients of Delaware Hospice are welcomed to stay at the Delaware Hospice Center.
As an alternative to hospital care the Delaware Hospice Center provides symptom management. Since its opening in 2008, the Delaware Hospice Center has served 6,300 patients. The state-of-the-art facility includes 16 private patient and family suites, family style kitchens, children's play areas, living rooms, a Family Support Counseling Center, and a meditation room. With round-the-clock care, caregivers are given peace of mind knowing that their loved one's needs are immediately addressed. Caregivers don't have to be nurses at the Delaware Hospice Center . . . they can just be a spouse, child, or loved one.
But it's not just about comforting the patient. At the Delaware Hospice Center, the needs of a patient's family and loved ones are also addressed. The Center has unlimited visiting hours, social workers, and chaplains on staff to meet with families to discuss the various medical or personal aspects that may arise.
Once a patient's symptoms are properly controlled, they are often transitioned back into their home. When this occurs, the patient and their family often use the Center as a place to learn about managing medications, pain, and disease specific information. There are many different reasons patients come to the Delaware Hospice Center, but one of the most prevalent reasons is for peace of mind.
While all individuals with a life-limiting illness are eligible for hospice care, the Delaware Hospice Center is specifically designed for patients who temporarily require a higher level of specialized care. To better understand this option of care, and our other services, Delaware Transitions and Delaware Palliative, just give us a call.
Some of our families have said the following:
"Even though there is 'no place like home,' if home is not possible, Delaware Hospice is the best. Have been there with a few friends and just recently with my Mother. Beautiful facility and staff is absolutely wonderful. So accommodating, empathetic, loving not only to patient but family. A very welcoming, peaceful and comforting atmosphere. God bless each one of them for their caring and loving hearts!" –  K.P.
"It was such a beautiful place for my father. The staff was just so wonderful to him and my family." – D.B.
"They were at my side every step of the confusing way . . . I am so grateful for their expertise care concern and love. I'm not sure I could have done it without them! Eternally grateful!" – M.R.
"Without a doubt Delaware Hospice is the most compassionate care anyone could ask for. My mother passed away there so peacefully. God Bless all who participated in her care! Thank you from the bottom of my heart." – S.S.
"Just this past week, I spent several days with a dear friend at the Delaware Hospice Center. From the physician to the housekeeping staff, the degree of professionalism and compassion was wonderful. Such a calling." – C.W.
"I have never seen anything so beautiful and people so caring in my life. This is a wonderful place!" – K.L.