For The Love Of Flowers
|
By Barbara P.G. Williams
Co-owner of Belak Flowers
Barbara Williams, a floral designer for over 30 years, is co-owner of   Belak Flowers.
In 32 years of working in 8 flower establishments, I thought I had heard all the flower stories to be told.
Recently, however, I have heard from my many happy brides about the wedding journey my bouquet has taken with the bride & groom;  how well it was treated, all the places it has been, being treated like a fragile new puppy.
So it begs the question, how long do blooms normally last?  Of course this depends on the flowers selected, the weather, and how well the flowers are watered and protected.
A normal bridal bouquet of mine can be expected to last over a week in water.  But in everyday bouquets, the expected  longevity  really starts with variety of the flowers.  Many blooms are simply sturdier than others and the length
of time from bud to full bloom varies enormously.
Flower Longevity
When flowers are harvested correctly and given the proper care and handling, they can be expected to last to their optimum    life expectancy.  Changing the water and keeping them in a cool place also helps.
Happiness is to carry flowers in both hands.
-Japanese Proverb
1 to 2 days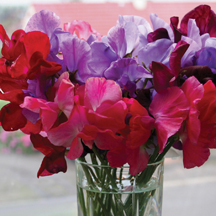 Gardenia
Sweet Pea

3 to 5 days
Cornflower
Peony
Daffodil 
Phlox
Iris
Queen Anne's Lace
Lilac
Stephanotis
Lily of The Valley
5 to 7 days
Anemone
Gloriosa Lily
Bouvardia
Gypsophila
Calla    
Rose
Delphinium
Snapdragon
Freesia
Stock

Gerbera
Zinnia
7-14  days
Agapanthus
Asiatic Lily
Alstromeria
Oriental Lily
Asters
Nerine
Bells of Ireland
Orchids
Chrysanthemum
Tansy
Gladiolus
Tuberose
Heather
Liatris
Yarrow
14 or more days
Anthurium
Heliconia
Carnation
Star of Bethlehem
Miniature
Carnation
Statice
Applause:
I found Barb and Belak by reading other reviews and recommendations and I have to say, all those other ladies were right! Barb was beyond awesome! I'm not a big flower person, I like relatively simple things. I had an idea of what I wanted and Barb was able to show me some pictures and help me create bouquets that I loved. My bouquet was the perfect size and my bridesmaids' bouquets werealso the perfect size for them. Our corsages and boutonnieres were gorgeous – she even included an extra one for the groom! ~ Lindsay
Belak Flowers did an amazing job as the florist for my wedding. Upon meeting with Barb as I was doing my vendor search, I could tell that she was skilled at her work, friendly, and very flexible. She had fabulous ideas and could offer me everything I wanted for a significant amount less than what other florists were charging. I met with Barb several times before the wedding, and she asked many questions to be sure that she had a grasp of my vision for my flowers. ~ Allison
Just like the other reviews left about Belak, I as well have to say that Barb was amazing and completely professional. She was able to turn my vision into a reality. Our flowers not only looked great, but the scent from the English roses were magnificent. I have referred two of my bride to be friends to Belak and know they will be just as pleased as we were. As an added tip to those unsure, just make an appointment to talk to Barb, I can guarantee when you leave you will know that you have found your florist! I had another appointment set up that I was sure I'd probably go with, but one meeting was ALL it took for me to know I had found my florist and I instantly canceled my other floral appointment. ~ Lynn
Belak Flowers
Where Your Vision Comes Into Bloom
Belak Flowers
since 1954
302-762-5000 888-762-8877
832 Philadelphia Pike
Wilmington,  DE  19809
Barb's Email: [email protected]
established wedding specialist free personal consultation with Barb, all budgets possible evening appointments available