Choosing An Auto Sales Associate With April Gambacorta
|
When buying a car, selecting the right people to work with can be just as important as the make and model you select. A new car is an important purchase – one of the biggest purchases you can make other than a home – and if you feel comfortable with a sales manager or associate you'll feel even better about your new car. April Gambacorta, Sales Manager with Delaware Subaru, recommends a few tips for deciding if your new car sales associate is the right fit for you and your family.
1. A good sales associate is one who listens carefully. Everyone involved with the purchase decision should feel that their sales associate is attentive. He or she will consider what you are looking for in a car and help match you with options that fit you and your family's needs.
2. Your sales associate should be knowledgeable. Nobody should understand the vehicles you are considering better than your sales associate. Ask questions and expect informed answers. Good sales associates will educate themselves on every make and model on the lot.
3. Patience is a virtue. You should never feel rushed when it comes to a vehicle purchase. Whether you are nosing around under the hood, or discussing your options with a family member or friend, your sales associate will know to be ready when you're ready. Take your time, make the right choice, and then your sales associate will guide you through the next step.
4. Excitement is infectious! Your sales associate should be as excited to work with you as you are to drive home in a new car.
5. Their goals are your goals. You want a car that meets your style, transportation, safety, and budgetary needs. Your sales associate will feel exactly the same way. After all, the best customers are happy customers and a smart sales associate will be looking to create a lasting partnership that will have you coming back for your next purchase too.
There are as many personalities and sales styles as there are makes and models. So, consider April's expert advice and make sure you're working with a sales associate that meets your needs.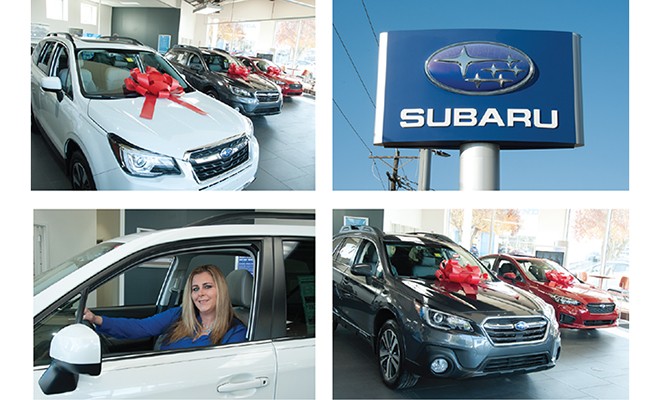 April Gambacorta is the Subaru Sales Manager for Delaware Subaru. April has over 14 years experience in the automotive industry and knows the ins and outs of fostering long-term relationships with customers.
"[The staff at Delaware Subaru] work well together and their communication between each other made my purchase smooth and in a timely manner. I sat down with April Gambacorta, who was a delight to work with. She truly went above and beyond to make my deal happen, and I couldn't thank her enough." – Noelle B. Delaware Subaru Customer
April and the entire team support the local community and reach out in support of important causes across the country as well. Recently, they provided support for the Hodgson Cares Project. Hodgson Vocational Technical High School initiated a program to support Texas schools damaged by Hurricane Harvey. They collected an amazing amount of needed supplies and Delaware Subaru stepped in with a donation of $500 to cover shipping the supplies to Texas.
"We could not have completed this project without Delaware Subaru's support and partnership.  Thank you, Delaware Subaru!"   – The students of  Hodgson Vo-Tech
Delaware Subaru supports Christiana Care through the Subaru Share the Love program and, as part of Auto Team Delaware, supports United Way of Delaware, Ministry of Caring, Faithful Friends and Brandywine Valley SPCA.
At Delaware Subaru, they want to make the car buying process as smooth as possible for everyone. They have a diverse sales force, including several female associates. If you're looking for a new or pre-owned vehicle and want to meet a local leader in the automotive industry, stop by and see April Gambacorta at Delaware Subaru on Pennsylvania Avenue in Wilmington, just off exit 7 from I-95.
 April Gambacorta, Sales Manager
Delaware Subaru