Women In Profile Second Quarter 2014
|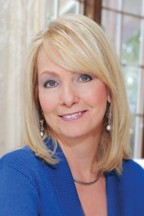 Dale Maahs
Dale is the general manager of DBCC'S GreatStuff Savvy Resale Boutique located at the Talleyville Center in North Wilmington. Dale opened the upscale resale boutique in October 2010 after closing and "retiring" from her own retail boutique, Dale's Shoetique" in Greenville. Dale has always exhibited her entrepreneurial spirit in every endeavor she has undertaken. Her multi faceted work experience and leadership skills in retail management, executive relocation management, director of a modeling agency, and her position as an advertising sales executive, all have helped hone her skills in building her business foundation for her next opportunity. That opportunity came soon after having lunch with a friend who works for the Delaware Breast Cancer Coalition. Joining the organization, to open and manage an upscale resale boutique, was Dale's first time working for a non-profit. Dale states the personal satisfaction she gets from working with the agency and over 50 volunteers at the resale shop, many of whom are breast cancer survivors themselves, has been an eye opening and inspirational experience. "The positive energy that these ladies portray, no matter what their circumstance, is really life altering," she states. These ladies have made her awareness of the trials and tribulations of persons going thru their own personal journey, while they also celebrate the many success stories of beating this insidious disease. "These stories have opened my eyes to the importance of celebrating life every day". Learning life skills that you get to embrace each and every day.
"There is a deep feeling of satisfaction I get in helping to generate additional revenue for DBCC so that the agency can continue to provide the support services needed to individuals in our own community who need them."
Whether you shop at GreatStuff Savvy Resale or the newly opened Great Stuff Home Shop, you not only will find, great stuff, but you will also experience a staff of people who are dedicated, fun loving, inspiring and helpful.
When it is time to relax, you can find her enjoying her other passions, boating on the Chesapeake Bay with friends, gardening, reading and or just hanging out with family and friends.
Caroline Logan
Caroline Logan's business routes trace back from international aviation entities such as Arco Oil and the Royal Embassy of Saudi Arabia (RESA), whose clients consisted of HRH Prince Bandar Bin Sultan, former ambassador to the United States and other world dignitaries. As founder and COO of Lymphedema Clinics of America (LCOA), Caroline leveraged her public relations experience to open Delaware's first outpatient lymphedema clinic dedicated specifically to lymphedema and its complications.
At the peak of her career, Caroline made the decision to leave the corporate world for the privilege to raise her three children. As her children became of school age, Caroline re-entered into the work force in a management and business development position in retail pharmacy. She was a key player in assisting the principles of Kirkwood Pharmacy and Biotek Remedys during the startup phase, and has built the pharmacy into a profitable entity. Caroline was successful in building a ready made compression stocking business for those with swelling and venous insufficiencies within Kirkwood Pharmacy. With her exposure to key physicians in the medical community, Caroline has identified a deficiency in the health care system with those who suffer with lymphedema.
As a result, Caroline looked further into the proper treatment of lymphedema and became passionate in finding a way to streamline the process for those in need of care. With the outpouring of support from the medical community, Caroline collaborated with Ian Mclean, former Executive Vice President of Exelon Corporation and former CEO of the Exelon Transmission Company to bring LCOA to fruition. She is grateful to have someone like Ian Mclean as CEO of LCOA. The two partners are dedicated in bringing hope, healing and awareness for those suffering with lymphedema. Caroline and Ian's plans are to open their second clinic in the near future in Dover, DE.
LCOA is currently offering educational meetings within the medical community as they campaign for better awareness for lymphedema. Any physician office, cancer society, hospital or individuals who would like to learn more about what LCOA has to offer can call the clinic and schedule an appointment for LCOA to come and speak about lymphedema. (302) 691-5167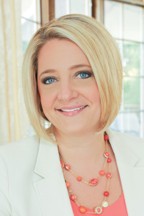 Katie Schuler D.C.
Dr. Schuler is a Delaware native and has been practicing chiropractic at Synergy since 2009. She graduated from McKean High School and went to Del Tech to prepare for the Chiropractic program at Life University in Marietta, GA. She finished her undergraduate degree at Life University, and then graduated with a doctorate of Chiropractic in 2008. She began her interest in chiropractic at a very young age when her mother was experiencing some neck injuries and would accompany her to the chiropractor. Dr. Katie learned then the value of chiropractic care and how it helps the entire body heal from the inside out.
Dr. Katie is married and has 3 small children, two daughters and one son ages 2, 7 and 9. She started children from day one on a holistic lifestyle with natural child birth and no vaccinations. Her primary goal is to educate everyone on the benefits and necessity of chiropractic care. Dr. Schuler sees patients as young as birth to people in their 90's, as everyone can benefit from a healthy spine and nervous system. She has recently taken part in personally enlightening active seniors as well as the medical profession on chiropractic and all the services Synergy Chiropractic has to offer. Chiropractic care is covered by most major medical insurance carriers as well as auto insurance, and workmen's compensation. In her spare time, she enjoys spending quality time with her children and husband. Dr. Katie's passion is helping people get healthier and she enjoys witnessing others get well by tapping into their own bodies healing potential.
Synergy Chiropractic is located at 807 N. Union St. Wilmington, DE 19805. Conveniently located in the heart of Little Italy. "Don't give up on yourself or your health"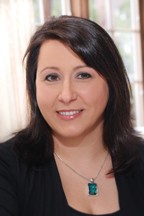 Dee Anderson
Helping those suffering from all types and stages of hair loss is not just a profession for Dee Anderson – it is a personal passion. Dee comes from a family of hair styling professionals (some of whom are still active in the field) and chose to specialize in non-surgical hair replacement after her brother suffered from Alopecia Areata in 2004. In 2005 Dee opened Delaware Hair Solutions in order to provide a discrete salon exclusively for hair loss sufferers.
Delaware Hair Solutions provides a range of options for hair loss that include the Virtual Reality and Virtuesse systems which are non-surgical hair replacement products that can be personalized for each client as to color, length and coverage needed; Low Level Laser Hair Therapy and high quality human hair wigs. Because of the suffering of close family members with cancer, Dee recently added a full line of skin care products for patients undergoing chemotherapy and radiation. Constantly continuing her education guarantees Delaware Hair Solution's clients the best of cutting edge solution to their personal needs in caring environment.
After graduation from Delcastle Technical High School in 1987 with a certificate in Graphic Design, Dee attended the Hair Academy of Newark. Upon completion of her degree and with continued education, Dee is now a Master Barber Stylist and has participated in testing on the Board of Cosmetology and Barbering.
While Dee grew up in Delaware she now lives with her husband, Ron of 25 years in Maryland where they have been renovating a farm. In her spare time Dee enjoys decorative furniture painting, loves spending time with her children and entertaining family and friends.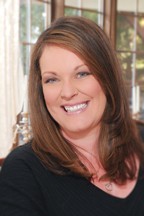 Jenn Adams
Jenn Adams, owner/chef of Fresh Thymes Café, has a passion for organic food, supporting local farmers, and her community. Jenn was born and raised in an Illinois farming community. She graduated from Eureka College, Eureka, IL, with a bachelor of arts in Psychology and Sociology. Aspiring to continue her Masters degree in Psychology, Jenn moved to Wilmington, DE in 1999. She found herself side tracked attending massage therapy school. Massage therapy opened her eyes to the importance of nourishing the body. Practicing massage therapy part-time Jenn began to follow her heart with the natural food industry. She worked for Newark Natural Foods, Whole Foods Market, Trader Joe's, and Harvest Market Natural Foods. She embraced each experience and learned as much as she could with hopes of opening her own business one day. Jenn and her mom, Jane, opened Fresh Thymes Café in 2009; creating a peaceful environment, educating customers, providing organic/chemical-free food, and supporting the community. Jenn and her mom had no restaurant experience, but cooking was always the grounding force in the family. Jenn's brother, Ryan, a chef in Illinois, provided guidance for the new adventure. Fresh Thymes has become a popular quaint café nestled near Trolley Square in Wilmington, DE. Working with local farmers and organic vendors, Jenn prepares nutritious food with lots of love. Fresh Thymes offers gluten-free, vegan, vegetarian, and omnivore options. More information can be found at www.facebook.com/freshthymes. When Jenn is not in the café, she can be found at a beach or snuggling with her cats.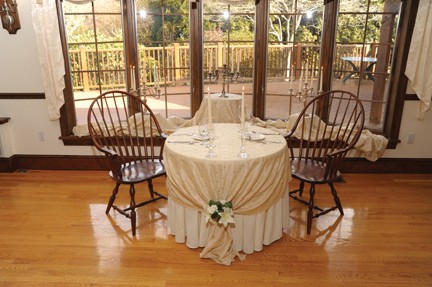 Thanks to Location….The Farmhouse Delaware's Hidden Gem!
Originally built in 1850, The Farmhouse provides a private setting for your wedding ceremony and reception, all in one convenient location. This spacious facility features cathedral ceilings, glimmering skylights, hardwood floors, pewter chandeliers, and large bay windows. Elegant French doors open to a wrap-around deck with two pavilions overlooking an outdoor gazebo bar.
The Farmhouse offers two breathtaking ceremony sites surrounded by an array of blooming scenery and romantic willow trees, providing countless spots to take photographs. Their customized wedding packages have a variety of menu options, all of which is freshly prepared on site. With only one wedding scheduled per day, you will enjoy a relaxed atmosphere and unrestricted use of The Farmhouse's four acres of manicured grounds.
For more information please contact them at:
The Farmhouse
5600 Old Capitol Trail
Wilmington, DE 19808
Telephone: 302-999-8477.
Also, check out their web site www.thefarmhousede.com
"The Farmhouse feels like being at a beautiful country estate…yet it's located only minutes away from everything!"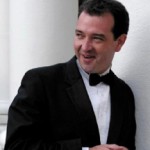 Roy McDowell
Royal Photography's owner, Roy McDowell, brings a wealth of experience, both creative and business, along with an unmatched ability to put people at ease, to every occasion he photographs.Over the past 18 years, Roy McDowell has captured "that" moment for more than 300 brides and grooms and preserved high school memories too numerous to count. Such exposure has led Roy to become one of the most recognizable photographers in Delaware. He creates a lasting impression, not only of an event, but of himself. The pride, precision, and passion he exudes has compelled brides-to-be to track down, "the photographer who took their senior portrait years before". Roy exhibits this same commitment and customer service when working with the many schools and businesses with whom he's managed contracts. "The consumer drives the product I provide; not the other way around". With the help and support of family, friends, and business associates, Roy McDowell strives to achieve his goal of providing an unforgettable experience with superior photographs, exceptional customer focus, and lasting relationships.
Owner of Royal Photography
royalphotographyde.com
[email protected]
302 438 1308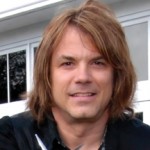 J. Christian
J. Christian is a Master Artist with more than 30 years experience in the beauty industry. Together with his wife Marcy, they own and operate J. Christian Studio, an upscale salon located in Hockessin, DE. As an International Platform Artist and Master Educator for Sexy Hair Concepts, J. Christian travels here and abroad teaching other Stylists about hair fashion. He regularly teaches at the Institute of Courage, a hair academy established by Michael O'Rourke, founder of Sexy Hair Concepts located in the Topanga Canyon just outside Los Angeles as well as at the Paul Mitchell School in Delaware.
Owner of J. Christian Studio
jchristianstudio.com
7465 Lancaster Pike
Hockessin, DE
302 235 2306