What Happens When Good Employers Go Bad? Delaware Workers' Compensation Benefits
|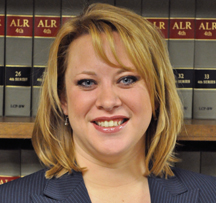 By Heather A. Long, Esq.
Murphy's Law states that whatever can go wrong will go wrong. Much to our dismay, this is true in life, and also with regard to work injuries.  Sometimes you can do all the right things but, through no fault of your own, still face difficulties navigating your work injury claim.  This is especially true if your employer, for whatever reason, did not have the requisite workers' compensation insurance in place at the time you were injured.
Thankfully, most employers in the State of Delaware carry the required workers' compensation insurance.  However, employers are not infallible.  Sometimes they make innocent mistakes like forgetting to pay their insurance premiums, sending their payment to the wrong address, or sending an insufficient check.  Other times they purposely evade paying their insurance premiums.  For whatever reason, if you're one of the unlucky few that are injured while working for an uninsured employer, this article is for you!
Normally, if a worker is injured on the job, the employer is very forthcoming with turning over their workers' compensation insurance information, and filing the First Report of Injury. (See previous articles explaining what the "First Report of Injury" is, and what it does.)  If, however, the employer is uninsured, they will usually either use delay tactics in hopes that the injured worker doesn't press the issue, or they will attempt to bargain with the injured worker.  Both tactics are reprehensible, and both have the same effect on the injured worker- they make obtaining workers' compensation benefits very difficult, but not impossible.
In my practice, I've seen a growing number of employers fail to carry the required workers' compensation insurance.  In those instances, when an employee is injured we still press forward as if the employer did have insurance.  One of the goals is to get to a hearing with the Industrial Accident Board (the State of Delaware administrative agency that oversees work-related injuries) as quickly as possible.  Again, there will be more obstacles placed in your path before you can get to a hearing, but a savvy attorney will be able to guide you past the obstacles to reach your first goal- presenting your case at the hearing.
After the hearing is conducted, the Industrial Accident Board will issue a written decision to the injured worker and also to the employer.  If the decision awards benefits to the injured worker, it is now time to put the tenacity of the attorney to the test.  The attorney then goes into "collection mode" in an attempt to collect your debt- your workers' compensation benefits.  In doing so, there are several things that can happen: the employer's assets can be collected, they can be sold at a sheriff sale, their earnings and tax returns can be garnished and they can be forced to sell company and personal assets to compensate you.
In order to recover money or assets to pay the benefits the injured worker is entitled to, an aggressive attorney is needed.  This tends to be an area of the law that, because of the difficulty collecting, many attorneys choose not to involve themselves.  If other attorneys who were unwilling to fight to get you the benefits that you deserve have turned you down, I offer free consultations to take a second look at your case. This consultation will give you insight as to whether your particular employer is insured, and if not, what your recourse is.  All of the lawyers in my firm, including myself, offer consultations for work injuries.  The consultations are free, and the insight into your claim could be invaluable to your future health and benefits.
Heather has been an attorney for over six years, and is currently practicing Workers' Compensation and Personal Injury Law at Kimmel, Carter, Roman & Peltz, P.A. with offices in Newark and Wilmington. Heather worked her way through law school as a paralegal in a personal injury firm. After passing the bar exam, she spent several years working as a defense attorney, representing local, regional and national companies. With the knowledge gained about the inner-workings of these companies, she now represents injured workers and personal injury plaintiffs.  
Heather is a graduate of Widener University School of Law, and the University of Nebraska- Lincoln. Prior to attending law school, she was licensed as a paramedic and spent time volunteering for her local ambulance corps. She is also active as a mock trial coach for Salesianum High School.
Heather is licensed to practice law in Delaware, Pennsylvania and New Jersey. 
For more information, or to schedule a free consultation, please call (302) 565-6132 or email her directly at [email protected].