Turning Your House Into A Home
|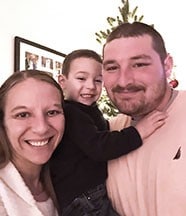 By Brenda & Edward Sparacio
A house is never a home until you add love. A house is never a home until you add memories. A house is never a home until you add PAINT! 
We are Colorful Creations, LLC, a family owned business that treats your home as our own. We began our business in February 2018, when we decided that we wanted to help families make their dream home possible. Helping to create the perfect color dining room for family dinners, or adding the gorgeous stain on the back deck for Fourth of July BBQs; These are the places in your home where memories are made. 
Customer Satisfaction is Key
We all know how many times a day the phone rings or how many items are on the "to-do" list. Our goal is to show our customers that no matter how busy life is, each customer is important. We promise to provide top notch customer service to each and every client. Time is valuable and so are our customers. We want our customers to experience our passion from the first phone call. We are not building a client base, we are building relationships. We work hand in hand with our clients to ensure the best materials are used, the perfect color is chosen, and the final product is remarkable.
Testimonials
"He worked with my schedule and my budget. He's an awesome guy! I highly recommend him to anyone. He made my garage look amazing!!" ~ Kevin R. 
"Eddie did a great job on our deck, even though Mother Nature was working against us this year, he kept us informed all the way through. I highly recommend using him for any painting or staining you need done." ~ Paul O.
"Very nice guy! Did a really good job and very reasonable in price."  ~ Heather R.
Our Services
As a licensed and insured painting company, we offer the following interior and exterior services for both residential and commercial properties. 
Painting of interior ceilings, walls and trim
Cabinet Painting
Epoxy Flooring
Painting of exterior surfaces, shutters and trim
Deck Staining
Powerwashing
Now is the time to stop dreaming and start painting! One phone call builds a lifelong relationship with us! Our passion is your reward. Your dream is our reality!