Tips On How To Keep Your House Dry
|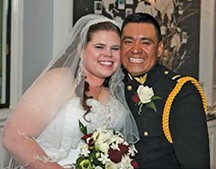 Presented By Teddy and Tina Escobar
Team Exterior Roofing, LLC
A Passion for Roofing
When Teddy decided to go into business for himself, he vowed to never overcharge people, but to give them good service and earn their trust. Six years ago he started Team Exteriors, LLC Roofing Company. His commitment to quality, meant that word of mouth quickly spread, and he developed repeat

customers from General Contractors and property owners. With much experience in roofing, and training in both residential and commercial roofing systems, he recommends these simple precautions to protect your roof and to keep your house dry . . . and if your roof is beyond precautions and needs replaced, Team Exteriors does all types of roofs (TPO, EPDM, Shingles, Slate, Residential Metal and Commercial Metal), and would be happy to come to give a quote. 
Due to heavy rain or strong winds you may find loose granules from the roof in the gutter. Clean the gutters so that debris like this, small tree branches and leaves don't block gutters from water flow. If water flow is blocked where does the water go? The water will build up and push under the shingles. This will start to rot your plywood. Eventually this will cause damage inside your house. 
Clean the leaves and any other debris at the top of your roof, especially in the valleys.

 

Any debris on the roof can block snow and water.

 

Trim any tree branches on top of your roof. Wind can make the branches get stuck in the tabs of the shingles and remove shingles.

 

Inspect any pipe boots and replace any rotten ones.

 

During the Holidays, be careful not to put holes in your shingles while decorating.
If it is time to replace your roof, call Team Exteriors Roofing today.

 
About
Teddy Escobar was born in Guatemala, one of the poorest countries in the world. Being poor did not stop Teddy from dreaming and working hard for what he wanted in life. He came to the United States as a teenager to seek a better future. He worked a lot of hard and difficult jobs while working to get his Theology degree before owning his own business. Teddy has training in both commercial and residential roofing systems.
In 2012, the same year he started his business, Teddy met Tina Mench. Tina is a Delawarean who has lived here her entire life, but has visited half of the United States, as well as Brazil & Mexico. Teddy and Tina were married in 2015 and joined together in their family business. They both enjoy being a part of their church and teaching Sunday school. Teddy and Tina are OSHA Certified and look forward to serving as they both have a heart  for the people in Delaware and all the surrounding areas.
Testimonials
"My house roof was replaced in 2012 by Team Exteriors. I was very well pleased with the work they provided so I asked them to come back and do my shed. Being a widow, I didn't know who to trust so I took the plunge and I tried this small business. When they came to do the estimate, I knew I could trust them." – Marty 
"We greatly appreciated the prompt, efficient work that your company did in tearing off the old roof, replacing and repairing needed repairs and installing the new roofing! We especially liked the huge magnet that picked up any nails that may have strayed from the tarps surrounding the home! We were and are very pleased with Team Exteriors and the quality of the work, seeing how that 5 plus years have passed and the roof looks outstanding!" – Kevin & Sara L.
"I have contacted Team Exteriors Roofing on many occasions. Being a small rental property owner myself, it's hard to find a company with reasonable prices that does excellent work. Those are two qualities that are hard to find. People ask me who do I use for my roofing needs, Team Exteriors is who I recommend."   – James Henry Properties
Team Exteriors Roofing, L.L.C.  Quick, Clean, Guaranteed.  Call or Text 302-222-1530
When you call, please mention this ad to receive a $200 discount