Top 6 Home Projects & How To Pay For Them
|
By Tyler H. Kuhn, CSME, Director of Marketing & Community Development
Home improvement season is just around the corner, and now could be a great time to plan your spring project. From mini makeovers to major upgrades, here are six great projects to help you boost your home's value, reduce the hassles of home ownership, and enjoy your place even more.
1. Updated Flooring
Muddy shoes. Kids. Pets. They can all take a toll on your floors. But new carpeting, hardwood, or other flooring options could make your home feel like new. Some flooring can even increase your home's energy efficiency.
2. Replacement Windows
Along with cutting down on drafts, new energy-efficient windows offer big savings over time. That's because they help prevent the heat gain and loss that result from inefficient older windows, which is responsible for 25% to 30% of the energy used for heating and cooling – a big chunk of your monthly energy bill.
3. Roof Repairs
The drip-drip-drip of a leaky roof is bad enough, but an old or damaged roof can also make it harder to sell your home in the future. Whether you're making minor repairs or investing thousands to replace your roof, being proactive is key to preventing bigger issues later, such as structural problems due to water damage.
4. Energy-Efficient Upgrades
Heating and cooling accounts for more than half of a home's energy use. Consider installing new blinds, shades, or awnings for a low-cost way to manage summer heat. Other smart upgrades include water-efficient devices like low-flow toilets and shower heads, Energy Star appliances, and LED light fixtures.
During the winter, draft-proof your home by sealing up leaks, and lay area rugs over hardwood and tile floors to keep rooms warmer and depend less on your thermostat.
5. A Kitchen or Bath Remodel
A beautiful kitchen or bathroom is a big selling point for future home buyers and a big luxury for you, but renovations often cost tens of thousands of dollars. As with any big project, take your time planning each detail and finding a contractor you trust, and be sure to pad your budget with an extra 10% to 15% for unplanned expenses.
If you need to trim costs, consider an alternative material for counter tops rather than granite or marble, which can run $40 to $100 per square foot. It's worth spending more for higher-quality cabinets and appliances.
6. A New Deck or Patio
Take your summer barbecues to the next level. A new deck or patio is a great way to increase your living space while spending far less than you would to build an enclosed addition.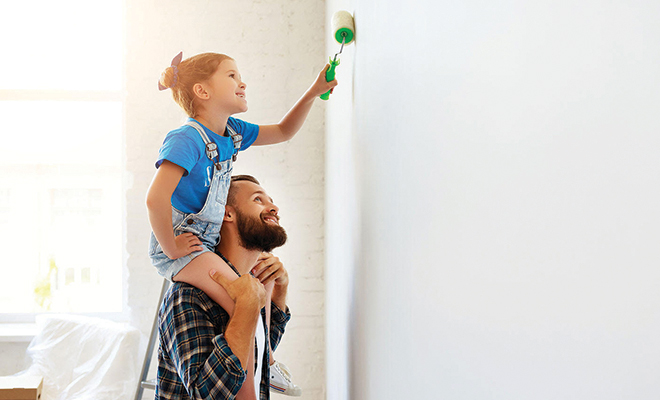 Paying for Your Project
Home improvements take creativity, time, and – of course – money. Consider your expenses in advance and create a realistic budget. Detailed planning will help ensure the project goes smoothly and help you determine the best way to pay for it.
Cash or Credit Card
Most homeowners pay with cash or credit cards for small projects. Go with one of these if you only plan to spend a few hundred or thousand dollars on materials or work from professionals. If you think you'll need to carry a credit card balance, make sure you have a low-APR card.
Personal Loan
If you need funds for something bigger, such as installing a patio or upgrading large appliances, an unsecured personal loan makes it easy to access funds with a lower rate than you'll find on most credit cards.
Home Equity Loan or HELOC
For the biggest jobs, borrowing against your home equity could help you access the most funds at the lowest cost – because you want to upgrade your home, not wipe out your savings.
If you know exactly how much you'll need, choose a Home Equity Loan to receive your funds in one lump sum and repay the loan in simple monthly payments. Or, for long-term projects that involve multiple expenses over time, get the flexibility to borrow again and again with a Home Equity Line of Credit.
Need a home improvement loan calculator to assess your total costs? It's easy with our loan payment calculator.
Get Started on Your Spring Project
We'll make financing the easy part of your home improvement project. Whether you need a competitive credit card, Signature Loan, or cost-effective home equity financing, turn to Dover Federal for the great low rates and friendly service you deserve.
302-678-8000    888-818-3328    www.doverfcu.com