This One Is For The Men In Your Life
|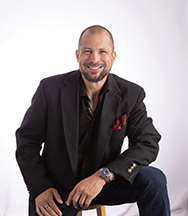 By Joe White
I have always had a good split of women and men clients. Look, when you are stuck, or there is really a big goal you must achieve, it doesn't matter who you are, what gender, race, or anything, you come to me to help you break through once and for all. Helping people to do this for 23 years is my superpower.
Recently I have seen an influx of men coming in as clients. Young men, 21-30 and late 30s to 50s. They exhibit some of these characteristics. They have lost their edge and are withdrawing—the loss of masculine energy.
The first question is why this occurs and what men can do about it to refine their edge?
The biggest reason I see for the loss of the machismo is a disconnection from their purpose. They don't know who they are any more or what they stand for in life. For young men, it is not knowing where to begin, fear of making the wrong choice, or not measuring up.
For older men, this can be from a recent event like job loss, the ending of a relationship, or just not having any goals to strive for. Men often think it is just getting older. That is a lie. I know men, including me at 55, that live in their passion and masculine energy.
Men lose their edge. When they lose their edge, we all tend to wander at first; then we wander aimlessly. We lose that confidence and ability to make decisions. We turn to external things to fill the gaps, video games, drugs and alcohol, porn, sports, anything that we can use to give us the illusion of edge.
The second reason is the feeling of being stuck and not knowing how to move forward. This can lead to a lack of motivation, avoiding social situations, and struggling in personal relationships. We all hate feeling powerless, especially when it comes to fulfillment. This leads to a drop in confidence and belief in yourself.
One of the ways I help men of all ages to combat this is to find their purpose in life and recommit themselves to it. They need to reconnect with their passions, set goals that excite them, find challenges, and surround themselves with people who can inspire and support them.
I understand it is hard for women if their man is shrinking and losing their confidence. It often leads to a loss of respect for their man. For the women, don't slide into a mom roll. Avoid nagging him, making him wrong, or challenging him. I know how difficult this is for women to witness. I have seen it from my women clients. The best strategy is to gently lead him to discover his path back on his own. That way he feels empowered by his decisions and actions.
And as always, we offer anyone a free coaching session with me to gain a greater understanding of our coaching methodology and why it is so successful.
Until next time, Rattle The Cage 
Bio
Joe White, President and founder of Get Life Coaching, started Delaware's first Life Coaching practice in Delaware over 22 years ago. Joe overcame a near-fatal drug and alcohol addiction 27 years ago and changed his life forever. Today Joe specializes in working with individuals who desire deep and sustainable change in their lives. He has worked with over 1 million individuals and businesses around the world. Joe also owns the Firewalk Institute of Research and Education, which trains and certifies firewalk instructors all over the world, including such notables as Tony Robbins and T. Harv. Ekers.   
Testimonials
"My experience with Joe and Get Life has been beyond any experience I could have ever imagined. Rewiring my thinking patterns and coming here has reconnected me to my heart. It has given me new hope, purpose, and freedom to challenge my own beliefs. The individuals I have met are inspiring. This program is a gift to my soul."                   ~ Sue K.
"Before I started with Get Life, I felt my life was out of control and I felt powerless to do anything about it. Joe White will get you MASSIVE breakthroughs and tools to take back control of your power and direction in your life. Never before have I ever felt clear with what I want, where I want to go, and how to get there."                   ~ Luke C.
Joe White
Get Life Coaching
302-832-3424