Self-Coaching Tool – Limiting Patterns
|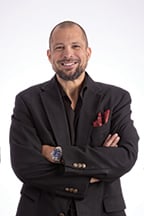 By Joe White
When I opened Get Life Coaching over 23 years ago, no one knew about life coaching. In fact, we were the first full-time life coaching practice in Delaware.
Through the years, two things have separated us from other self-development modalities.
First was our ability to help individuals unable to obtain results under traditional forms of therapy. Many therapists often refer patients to us who are stuck and unable to move forward under their care.
The second was creating a unique approach that included training our clients on how to become better life coaches in their own lives—helping clients to break free from the dependent model and become independent with skills and tools to handle challenges in life. This has been a huge game changer.
One of the most valuable tools is understanding the indicators and triggers associated with limiting patterns. Most individuals are unaware they are even reacting to certain situations until it's too late and the damage has already been done.
Here is one of my favorite tools that allows you to self-coach yourself to avoid or get out of those limiting patterns
Step 1 – Identify the limiting pattern
What is the limiting pattern? Anger? Beating yourself up? Angst?
Step 2 – Identify the indicators
How do you know you are running the pattern? What are the physiological sensations, thought patterns, and self-talk? Behaviors?
Step 3 – What are the triggers?
BE SPECIFIC. The more specificity you have, the easier it is to recognize when the triggers are present. When someone uses a certain word? Or uses a certain tonality? When are you put on the spot?
Step 4 – What are your strategies to pull yourself out or to get out of the pattern?
Create strategies for both situations. When you feel you are getting caught up in a limiting pattern, how can you interrupt the pattern and stop going deeper into it? And, if you do get hooked, how do you get out of it? Do you walk away and take some time to process? Meditation? Go outside and ground yourself? Work-out? Ask yourself better questions?
The secret to this self-coaching tool is that you must be WILLING to pull yourself out of it. A part of us wants to run the old pattern because it is familiar. That is the trap.
When you get good at recognizing the indicators and triggers, it will be easier for you to make the decision to use the strategies that work for you. The more you practice this self-coaching tool, the easier it becomes to avoid those old patterns and move into new healthier ways of being.
If I can be a support for you, please let me know.
Until next time, Rattle The Cage, Joe White 
Bio
Joe White, President and founder of Get Life Coaching, started Delaware's first Life Coaching practice in Delaware over 23 years ago. Joe overcame a near-fatal drug and alcohol addiction 27 years ago and changed his life forever. Today Joe specializes in working with individuals who desire deep and sustainable change in their lives. He has worked with over 1 million individuals and businesses around the world. Joe also owns the Firewalk Institute of Research and Education, which trains and certifies firewalk instructors all over the world, including such notables as Tony Robbins and T. Harv. Ekers.   
Testimonials
"My experience with Joe and Get Life has been beyond any experience I could have ever imagined. Rewiring my thinking patterns and coming here has reconnected me to my heart. It has given me new hope, purpose, and freedom to challenge my own beliefs. The individuals I have met are inspiring. This program is a gift to my soul." ~ Sue K.
"Before I started with Get Life, I felt my life was out of control and I felt powerless to do anything about it. Joe White will get you MASSIVE breakthroughs and tools to take back control of your power and direction in your life. Never before have I ever felt clear with what I want, where I want to go, and how to get there." ~ Luke C.
Joe White
Get Life Coaching
302-832-3424