Desperation Saved My Life
|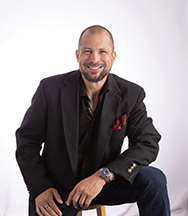 By Joe White
I never planned on being a Life Coach. And it certainly wasn't inspiration that began me on my journey. It didn't get much more desperate than where my life was 28 years ago. I was in the grips of near-fatal drug addiction, that if it weren't for the miraculous work of the EMTs to bring me back from the dead, my story would end there. But thankfully, it didn't.
After getting clean and sober in 1994, in 1999, I opened Get Life Coaching, Delaware's first full-time Life Coaching practice. 
I was indeed my first client. In a desperate attempt to save my life, I hit a point where I would do anything to change.
Most people wouldn't say that desperation is a "positive" state, but when you have nothing left to lose, you tend to become very willing to do whatever it takes to change. 
Desperation is an excellent catalyst for change. It can cause you to take massive action, which may have been too risky or difficult when you were in a more comfortable place.
I've seen this time and time again with my life coaching clients. When they come to me feeling desperate, it's often because they've hit their proverbial "rock bottom." They've exhausted all other options and are ready to do whatever it takes to turn their life around.
I have built my business and reputation on helping those who had tried everything to change and could not, those who felt they were beyond help. 
Thankfully that is not the truth. We all can change. Is it always easy? No. Is it hard work at times? Yes. I never said it was easy, only that it is possible.
Of course, this doesn't mean that desperation is always a good thing. If you're feeling desperate for the wrong reasons (such as out of fear or insecurity), it can actually lead to more problems.
But if you're feeling desperate because you want to create a better life for yourself and your loved ones, it can be a powerful motivator.
So if you're feeling stuck or like you've tried everything and haven't been successful, know that desperation can be a good thing. Use it as motivation to take massive action and create the life you want.
This time, draw a line in the sand and vowel; this moment is not like the past. I promise you that you will find the strength and courage to push onward. You were not placed on this earth to settle. You are here for more. It is time. It is your time.
Until next time, Rattle The Cage, Joe White 
Bio
Joe White, President and founder of Get Life Coaching, started Delaware's first Life Coaching practice in Delaware over 22 years ago. Joe overcame a near-fatal drug and alcohol addiction 27 years ago and changed his life forever. Today Joe specializes in working with individuals who desire deep and sustainable change in their lives. He has worked with over 1 million individuals and businesses around the world. Joe also owns the Firewalk Institute of Research and Education, which trains and certifies firewalk instructors all over the world, including such notables as Tony Robbins and T. Harv. Ekers.   
Testimonials
"My experience with Joe and Get Life has been beyond any experience I could have ever imagined. Rewiring my thinking patterns and coming here has reconnected me to my heart. It has given me new hope, purpose, and freedom to challenge my own beliefs. The individuals I have met are inspiring. This program is a gift to my soul."  ~ Sue Kaskey 
"Before I started with Get Life. I felt my life was out of control and I felt powerless to do anything about it. Joe White will get you MASSIVE breakthroughs and tools to take back control of your power and direction in your life. Never before have I ever felt clear with what I want, where I want to go, and how to get there." ~ Luke Corres
Joe White
Get Life Coaching
302-832-3424