The Pros & Cons of HydraFacial: Part II
|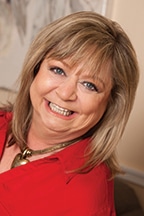 By Joanne Graves, Owner of Sanctuary Spa
In part one of our four-part series we compared the benefits of HydraFacial with micro-dermabrasion. In this issue we'll look at how HydraFacial compares with chemical peels. Following is a recap of the HydraFacial and what conditions it treats; then we'll compare them with those of chemical peels.
There's no denying that medical spa treatments can go a long way in beautifying your skin, from reducing fine lines and wrinkles to improving acne and rosacea.
One of the latest non-invasive facials on the market is HydraFacial — a treatment that claims to be "the most effective type of facial you can get." How does HydraFacial stack up to other tried-and-true facial treatments? Let's take a look.
What is the HydraFacial?
To perform a HydraFacial, estheticians use a proprietary machine — the HydraFacial MD by Edge Systems — to perform four distinctive facial rejuvenation procedures in one single treatment.
This multi-step treatment cleanses, exfoliates, and extracts dead cells. It then rejuvenates the skin by applying a serum infused with antioxidants, peptides, and hyaluronic acid.
It's mainly used to address the following concerns:
Fine lines and wrinkles
Dark spots
Hyperpigmentation
Clogged pores
Enlarged pores
Mild acne
Oily skin
How does the device work? HydraFacial employs a unique, spiral suction tip that dislodges impurities and delivers the serum deep into the pores by opening them up during the treatment.
This painless in-office procedure promises to deliver immediate, long-term results for people of all skin types, with absolutely no downtime.
Although some people experience slight tightness and redness for about an hour or so following the treatment, the side effects and risks of HydraFacial are minimal across the board.
These treatments employ acids — salicylic acid, alpha hydroxy acid, and others — to correct fine lines, wrinkles, age spots, freckles, and shallow scars.
HydraFacial Vs. chemical peels
Both HydraFacial and chemical peels work by removing dead skin cells. Chemical peels come in varying levels, ranging from superficial peels to deep peels, all of which are designed to cause the skin to exfoliate and peel away.
Chemical peels can be super-effective, but they're not for everyone. Due to the acids used, they are not recommended for those with certain skin disorders.
Furthermore, chemical peels have been shown to be more effective in those with lighter skin tones, whereas HydraFacial is recommended for people of any skin tone.
You'll need to avoid chemical peels if you are nursing, pregnant, or have eczema, dermatitis, rosacea, or psoriasis. On the other hand, HydraFacial can be used by people with hyper-sensitive skin, and is recommended for treating rosacea and dry, peeling skin.
Best for: Chemical peels are good for patients with wrinkles, fine lines, age spots, and other skin concerns who do not have sensitive skin, a darker skin tone, or skin disorders. Those with sensitive skin, eczema, dermatitis, rosacea, psoriasis, and other disorders should not undergo chemical peels.
When you are ready to start working on your skin care goals, don't hesitate to contact Sanctuary Spa to find out how we can help you! To learn more about these treatments and to schedule your consultation, just call 302-475-1469.
Mention this article for a free gift when scheduling your HydraFacial at Sanctuary Spa!
This is part two in a four-part series. SO tune-in next issue. for more!
Contact us at www.mysanctuaryspasalon.com or call us at 302-475-1469 for a personalized consultation!