Spring Into Action With Pilates!
|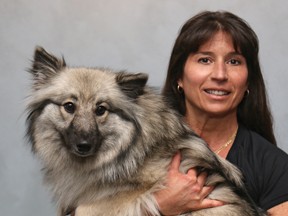 By Nancy Hawkins Rigg,
Founder and Owner, Forever Fit Foundation
About the Pilates Method
The Pilates method of body conditioning is an exercise system focused on improving flexibility, strength and balance for the total body. It is a series of controlled and systematic movements coupled with focused breathing patterns engaging your body, mind and spirit. The Pilates method of body conditioning works proximal to distal, from the center to the peripheral body parts. It works the stronger deeper muscles of the body creating long lean toned muscles, instead of building the weaker superficial muscles which bulk. The Pilates method is performed on specifically designed exercise apparatus using springs… such as the Reformer, Cadillac and the Wunda Chair. Each session is thoroughly supervised by extensively trained teachers.
The Reformer
The Pilates Reformer is an exercise machine used to incorporate the Pilates exercise technique for a challenging and intense workout. Springs, leverage and body weight are used as resistance while performing movements targeting specific muscle groups. Workouts consist of controlled, flowing movements working your muscles through a full range of motion. The reformer adds increased resistance to the movement. By working to overcome this resistance, training results in increased fitness levels.
The Cadillac
The Pilates Cadillac is a piece of equipment that most closely represents that of a bed with a frame.  It takes our classic Mat and adds the springs for support and challenge. The trapeze table was developed in the mid 50's. Joseph Pilates made all of his creations in the basement of his building. When he brought it up into the studio, one client saw the table and said, "Hey Joe, is that your new Cadillac?" The name stuck. Exercises on the Cadillac help to develop lean muscles and improve blood flow and circulation.
The Wunda Chair
The exercises on the Chair deepen your core connection, create better body awareness and give your powerhouse the Ultimate challenge. Joseph Pilates intended his brilliant Wunda Chair to be an "all-in-one" home gym. Its design is small and compact, so it can fit almost anywhere. When clients have a good understanding of the basics of the other apparatus, want quick results and are willing to work hard, we introduce the Chair. Mastering of these exercises takes time, and is meant to be a work-in-progress. A favorite thing about the Chair is how clearly it shows you your progress.  
In the Words of Joe . . .
"Bulging muscles hinder the attainment of flexibility because overdeveloped muscles interfere with the development of undeveloped muscles. True flexibility can be achieved only when all muscles are uniformly developed."  Joe gave us tools to become strong and flexible: equipment that provides corrective resistance to the body and allows underdeveloped muscles to build along with their more developed counterparts. This helps the body to find muscular balance, which is the basis of flexibility and strength. The springs on each piece of equipment facilitate the stretching of tight areas and the strengthening of weak areas by providing tangible forces to pull, push, lift, lengthen and balance against. We all know that the exercises we dread most are precisely the ones that will improve us the most. When struggling, look to the springs to help identify weaknesses and to determine which muscles we must engage during our practice to help the body move with the desired grace and power we are working toward.
Take Away
Different bodies require different springs. Apparatus spring tension may vary person to person depending on height, weight, body proportion and skill level. There is no real "weight" equivalent as on traditional gym equipment. Your spring tension should allow you to perform each exercise with control, stability and confidence. When understanding the main objective of an exercise, you will have the ability to adjust the springs accordingly. Let one or more of our certified experts help you today!  
Nancy Hawkins Rigg is the Founder and Owner of Forever Fit Foundation, a personal training business specializing in Pilates, Gyrotonic, Gyrokinesis, Yamuna Body Rolling and sport specific training. Forever Fit Foundation accepts clients at three sites: Dover and Rehoboth, Del., and Mendenhall Station, Pa., just over the Delaware line. A certified athletic trainer, she earned her bachelor's degree from the University of Delaware and her master's degree in exercise science and sports medicine from Miami University in Ohio. Please call (302) 423-1816 or (302) 698-5201 to schedule an appointment or for more information.