You Deserve An Escape . . . From Technology
|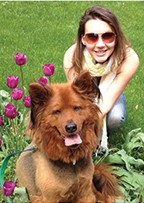 By Heather Diamond, 200 e-ryt, L.M.T.
Do you have a love/hate relationship with technology? We cannot argue the ease of having information at our fingertips, of sending & receiving faster than we ever thought possible. But despite its advantages, we could all use a little escape from the constant ding, buzz, messaging, and posting that can distract and consume us.
You've seen how difficult it is to switch off from our devices. It distracts meals, vacations, days off. The idea that we need to disconnect is becoming mainstream as we all feel the attachment and drain from technology and social media.
I have chosen to make limited electronics a life-style as I found it distracting, draining, and physically destructive. Headaches, nausea, and disrupted sleep were a regular occurrence from my digital deluge.
For the majority of us, our career depends on using technology. But the stress (which leads to the physical issues) caused from the constant flow of data and information is undeniable. If you find yourself frustrated with how consumed you become with digital on a daily basis, you are due for a digital detox.
Taking a period of time to completely disconnect from using electronic devices in a digital detox can be life-changing; reducing stress, focusing on personal connections, and bringing  back a zest for life.
Imagine a vacation where you are encouraged to fully decompress, take time for yourself and for personal connections with family and friends; transforming your energy; without a single distraction from phone calls, or emails or any other worldly problems. The power of this kind of detox to enliven your own natural energy and to bring you into your personal power and alignment is incredible.
As passionate as I am about detoxing from digital, I am equally as passionate about travel and the power of movement and yoga. So when I sold my yoga and wellness business (Kaya Wellness & Yoga in Rehoboth, DE & Philly, PA, it was a natural transition to combine these passions to create personalized retreats for families and businesses.
Yoga, movement, massage, and travel have been my life for over a decade and I love to share this with others as they plan their escape. Whether you envision an escape to the rustic landscapes of Tuscany, or snorkeling in the turquoise waters of the Caribbean, or an exotic exploration of coastal Ecuador; whatever your fantasy vacation, make it better by making a vow to digitally detox.
So skip the big hotels and exclusive price tags, and create an excursion that allows your group to truly connect and transform while enjoying yoga and massage every day in your digital detox by taking your yoga instructor/massage therapist/personal chef with you!
It's easier and more affordable than you think:
Packages starting at just $500* that include daily personalized yoga & massage (group yoga class every day and a 30 minute-massage every day for 6 days).
*Plus travel expenses.
So if you have your vacation rental planned, bundle in your yoga/massage package to make your excursion a true retreat. And if you just have an idea but haven't begun the planning. Call me and I will be happy to help you get started planning. Free 30-minute consultation to get you started planning your affordable custom retreat.
If you're ready to hit the "reset button" and come back to your true essence and what really matters to you, call me to explore the best options for your group.
Heather Diamond
617-721-6347
Heather Diamond's 15 years of yoga teaching experience allows her to bring meaningful yoga classes (beginner to experienced; gentle to invigorating), SUP Yoga, & Aerial Yoga to group retreats. Certified in Thai Massage, Ayurvedic Massage, integrative massage, Primus Energy Healing, Chakra Balancing, & meditation instruction, she brings an added dimension of relaxation and healing to your group, guaranteeing that you have an expert instructor and LMT on your next Family Vacation or Special Celebration group trip.
She loves to cook healthful, fresh, and local; and is an explorer that loves to dive in to the local culture & pulse of a new place. She has lived in coastal Ecuador, and her extensive travels over the last 20 years have taken her to Central and South America, the Caribbean Islands, and much of Europe. Heather is a lifelong student and loves to soak up information from her travels, experiences, and is continually bringing in new information to her teachings.