Shine Bright During The Winter Months With Eminence Organic Skin Care
|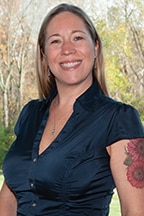 By Melissa Moulder-Condit
My Journey
I have been in the wellness industry since age 12; my Mom is a massage therapist. It naturally lured me in after I graduated high school. I received my massage certification in 2002 beginning my path into the wellness industry. Wanting to be able to offer my clients more, I continued my career and received my esthetician certification in 2006.
Since becoming a mom I have been seeking a natural and organic way of living. I have been seeking out healthy products that actually work. I was introduced to Eminence at a spa I worked at, and it was love at first use! The products speak for themself. After opening my own business there was only one skincare line I would use, Eminence! I love what I do. Helping others have a moment of relaxation in the crazy everyday hustle is why I love my job. Working with my clients is my passion!
Our skin is our largest organ; it protects us. Our face is how people remember us. We all know nutrition, hydration and environment effect our skin, but seasons, aging and stress all influences our skin's appearance as well. And let's not forget the products we use. Have you been using the same product for years? Organic and natural products greatly benefit us when used on a daily basis.    
Sometimes we need a reminder to refocus our attention on our skin. We brush our teeth daily and have regular dental checkups; why wouldn't you check in with your Esthetician!?!? Enjoy a relaxing facial! Try an organic product and be WOWed by the results. Many of my clients say, "My skin is so soft, I'm glowing, I look younger, I love the subtle fresh scent of the products." 
About Eminence
We believe in providing the best skin care products possible. Our products are proudly free of parabens, propylene glycol, sodium lauryl sulfates, harmful colorants and fragrances, mineral oils, petroleum, and other harsh cosmetic chemicals. 
We continue to use hand-picked fresh ingredients to create products that contain potent healing and beautifying properties. Many of these ingredients are combined with pure waters drawn from a thermal hot spring lake containing minerals and trace elements found nowhere else on earth.  
Our products are handmade without any severe heating or hydrogenating processes that can affect the nutritional content and potency of natural ingredients. Vitamins are captured in their all-natural fresh base, offering dramatic results as actual seeds, pulps and peels impart regenerative and healing powers that only nature can produce.
Testimonials
"I've struggled with breakouts all my life, trying harsh chemicals to control them, but they never worked. Once I started going to Melissa for facials, I noticed a huge difference. She is very knowledgeable about how to treat what type of skin you have. My breakouts improved and my skin was glowing. Once I saw the difference using Eminence products made with my skin, I ordered some for home ASAP. I felt confident using the Eminence products because I knew they worked and that the ingredients were organic; no more harsh chemicals for me! Melissa's facials with eminence products have done wonders for my skin!"  ~ Katie R.
"The first facial that Melissa gave me had me wondering why I had WAITED so long! It was pure heaven. I purchased one of the moisture creams that retained the scent of blueberries and moisture for 25 hours. I will go back."  ~ Liz W. 
"I started using Eminence products in 2017 when my daughter worked for a spa in Los Angeles, CA. I was instantly sold based on the fact that the products are not diluted, so you can see and feel the wholesomeness and richness of the product. A little bit goes a long way so your investment is worthwhile. The variety is exceptional too so you can see what works best for you. From a consumer perspective, the sample packs are great and allow you to easily try different and new product line options. I was elated when I finally found somewhere in Wilmington that sold Eminence and the bonus was the incredible Esthetician, Melissa Moulder, to go with it!"  ~ Jen D. 
Melissa Moulder, Owner / Massage Therapist / Esthetician
Intuitive Wellness
2006 Foulk Road, Office Park Suite F, Wilmington, DE 19810
302-293-7240