Sarah Slaysman joins Artisans' Loan Team
|
Artisans' Bank is proud to announce that Sarah Slaysman has joined our Residential Mortgage Loan Team as a Mortgage Loan Originator. Working out of Artisans' new Rehoboth Beach Branch and Business Center, Sarah will serve Southern Delaware and offer a full complement of home loans. Sarah joins Michele Speary and Tom Keehan in serving all of Delaware's residential lending needs.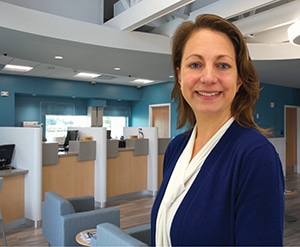 Sarah comes to Artisans' Bank with over 20 years of experience in banking. She has prior success as a Branch Manager, Licensed Investment Consultant and Mortgage Underwriter. Sarah has been a licensed Mortgage Loan Officer for the past 7 years.
In her role as Loan Officer, Sarah will handle home mortgage lending for both primary and secondary homes, lot loans, construction loans, and refinancings. Sarah will also serve as a resource for the community, available to provide answers to home mortgage and financing questions.
"We're so happy to bring Sarah on the Artisans' team, " says Artisans' Senior Vice President of Lending Dave Ferguson. "Commitment to excellent customer service and community banking is central to what we do at Artisans'. Sarah will be a great asset to Artisans' Bank and to the residents of Rehoboth Beach and Sussex County."
"I really enjoy working with people and educating them on their options." says Sarah. "My extensive experience makes me a great partner to have on your team during the home buying process."
Artisans' Bank has a wide range of home loan products including traditional fixed-rate loans, adjustable-rate mortgages, VA loans, FHA loans, construction loans and home equity loans. For first-time home buyers, Artisans' offers special services including discounted rates and fees. On the Artisans' website, ArtisansBank.com, first-time buyers can find links to educational articles that answer many questions about buying a home.
One benefit of securing a home loan with Artisans' Bank is that all loan decisions are made locally, in the community. Most big banks now make loan decisions through a computer program. Artisans' is a local bank, and Michele, Tom, and Sarah take their time to get to know the applicant and their loan needs.
Sarah's office is in Artisans' new Rehoboth office which opened in July, and is located on Route 24 at Beebe Road. To contact Sarah, call her at (302) 296-0152 or email her at [email protected].
Founded in 1861, Artisans' Bank (Total Assets $670 million as of 09/30/2022) is a locally managed, mutually owned, community bank headquartered in Wilmington, Delaware with 12 retail branch locations and 2 community-based lending hubs in Kent and Sussex County. The Bank offers commercial and retail banking services in Delaware and contiguous counties in Pennsylvania and Maryland. Member FDIC. Equal Housing Lender. Visit ArtisansBank.com for more information.
Artisans' Bank