Remove Unwanted Body Fat Now With Smartlipo Laser Liposuction
|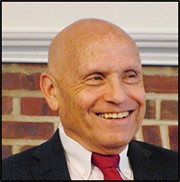 By Nadiv Shapira, MD FACS, FACPh
Dr. Nadiv Shapira, a board-certified physician, is an authority in fat disorder diseases. He has been doing SmartLipo laser procedures since acquiring the newest most advanced version of laser liposuction, the SmartLipo Triplex® laser in 2012. His expertise comes from years of experience and precise skill developed throughout his 25 years as a cardiac surgeon. Now, as a fat disorder specialist, women travel from all over the U.S. to have their fat removed by him to help them with Lipedema, a fat disorder. Those of us without the disease, but who want to have stubborn, unwanted fat removed for personal reasons, are fortunate to have this compassionate, experienced surgeon here in the Delaware Valley.
Smartlipo Triplex® is a minimally invasive, laser liposuction treatment. It is a one time, in office procedure. Local anesthesia is used and you are awake during the procedure. A small laser fiber is inserted under the skin and the energy from the laser permanently destroys the fat cells. Unlike any other fat reduction treatment, this procedure also tightens the remaining loose skin. Several areas of the body can be treated at once; therefore, only one procedure is required. Down time is minimal and you can be back to your normal routine in 2-3 days. Temporary bruising and/or tenderness that might occur lasts only from one day to a week or two.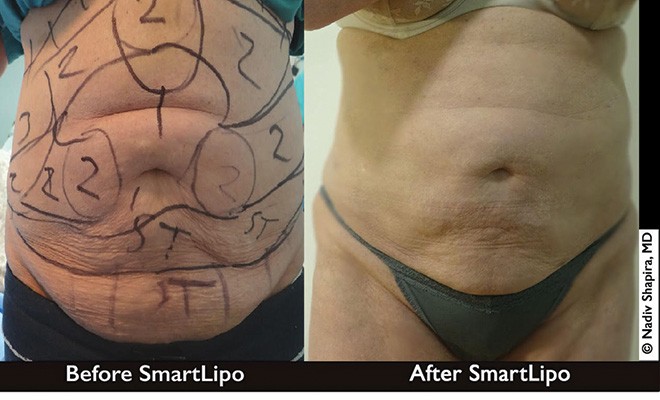 Reasons why you should choose SmartLipo Triplex® for Liposuction?
Non-surgical
Comfortable
Done under local anesthesia
2-day average recovery period
Minimal bruising
Results in immediate, permanent fat removal
Can be done on all parts of your body
Provides optimal sculpting (capable of removing more in some areas, less in others)
Tightens the skin
Is minimal risk
SmartLipo Triplex is the only Liposuction procedure that provides all of the above!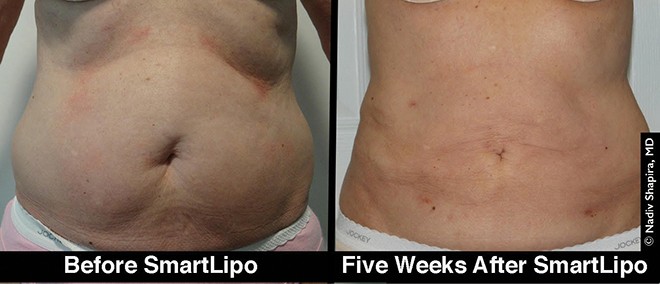 Why is SmartLipo Smarter than Traditional Liposuction?
Dissatisfaction after traditional liposuction is common due to some remaining loose saggy skin, generally at the stomach, waist, thighs, or arms. This is more likely to occur when there is too much skin or the quality of the skin is not ideal (e.g., with stretch marks). After undergoing traditional liposuction, loose saggy skin or large scars can make you feel unhappy and self-conscious. You may end up trading extra fat with either a big scar from a tummy tuck or loose saggy skin from a traditional liposuction. SmartLipo Triplex however, is the only method of Liposuction that, in addition to fat removal, does tighten the skin and does not leave large unsightly scars. One of the three laser beams in the SmartLipo Triplex which Dr. Shapira uses is specifically aimed to heat the under-surface of the skin and cause it to generate collagen and shrink and thicken the skin.
What People Are Saying About Fat Removal and Body Sculpting with Dr. Shapira
Dr. Shapira and his team are some of the most humble, compassionate, skilled people I have ever met! I have had vein treatments as well as four WAL Liposuction procedures and I don't think I could find another surgeon with the talent, skill, and concern that Dr. Shapira has!  – Janet H., Taylors, SC
I had my first surgery today! My legs feel so much lighter. Dr. Shapira and his staff are so loving and genuinely caring. I am so thankful I chose Dr. Shapira to do my surgery!  – Holly H., Simms, MT
After going through two highly invasive liposuction procedures, I finally found a better option. Smartlipo performed by Dr. Shapira at First State Vein & Laser is the way to go. No down-time and the recovery was quick and easy. The results are amazing! – Chris W., West Chester, PA
The care I received was beyond expectation. Dr. Shapira is an amazing doctor. He helped put me at ease the entire time. I am beyond grateful for the compassion and for the attention. At no time did I ever feel rushed. Everyone in the office made me feel that I was important. LOVE them and highly recommend them!!! – Cathy C., Frederick, MD
Upon arriving at the office, I immediately felt at ease. It was like visiting some old friends, actually. Dr. Shapira is very nice, incredibly thorough, dedicated. It's obvious that he cares a great deal about patients and educating/spreading the word about our condition.  It was a great visit and I completely feel at ease and trust Dr. Shapira and his staff!! – Colleen W., Leyden, MA