Lips- They're Becoming a Trademark
|
O, how ripe in show Thy lips, those kissing cherries, tempting grow.     ~ William Shakespeare
Through a smile, a pout, or perhaps a kiss, lips are the bearer of our emotions.
Healthy lips can make you look young, sophisticated, sensual, or exotic. Likewise, thin, pale, colorless lips look lifeless…and well…old. As we move away from the suppleness of our youth, our desire to juice up those lifeless lips becomes part of the daily grind. In today's image driven society fuller, plumper lips are more than desirable. They're becoming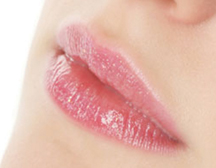 a trademark, a fashion statement in its purest form.  So we try to give our lips some life. Women across the world spend multiple hours and multiple dollars on lipsticks and liners, plumpers and glosses, trying to get that perfect shape and perfect color.
We devote 10 to 30 minutes every morning, meticulously practicing the art of make up,
a talent we may or may not be blessed with. If you're lucky enough to achieve some symmetry, and you somehow avoid the smudging and smearing before you leave the house, you still have to reapply throughout the day to avoid looking washed out.
Even with all of the available plumping products on the market, many of us feel our lips are too small or too thin, or perhaps unsymmetrical. The hazard of an unsteady hand only complicates the daily grind. Wouldn't it be nice to not have to think about it? To be able to eat, even kiss, and still retain that youthful glow? Permanent lip liner and full wash of lip color is the solution to rejuvenating your smile.
Permanent cosmetics can change or enhance your lips in many ways, including, but not limited to:
•  enhancement of lip color, slight or dramatic variations available
•  placing lip liner outside of natural lip line to create a fuller look, or inside to create a smaller look
•  enhancing the shape of the bow (middle of top lip) or even creating a bow where one hasn't existed
•  correcting uneven lips, balancing the top and bottom lip
Permanent cosmetics are the solution for a natural restoration of youthful color, and a fool proof way to correct and enhance shape.
Those perfectly defined, fuller lips you've always wanted are finally achievable. You will enjoy the results for years to come!! You can wake up with make up, and use that precious primp time for something else. No smears! No Smudge! No worries!
For more information on all permanent cosmetic procedures, pictures of Carmella's artistry and more, please visit our website at www.permanentu.com. Feel free to call, we will be happy to answer any questions or concerns you may have. If you are interested, we will gladly assist you setting an appointment for a COMPLIMENTARY consultation with Carmella, where shape defining and color quest are just the beginning. No commitments, just exciting possibilities.
Choosing your artist is the most important decision one can make on this quest for beauty. We are here to help you make an informed decision. Carmella has performed thousands of procedures since 1999, making her reputation and experience unmatched in the area. Come and see her portfolio for yourself. Beautiful, youthful, lovely lips can be yours permanently. Wake up with make up!
Testimonials
"I have never felt more confident and you have brightened my life." – L.M
"Thank you for performing a miracle." – L.E.
"Permanent makeup enhanced my life, I always look good and go anywhere." – B.M
About the Artist
Carmella Gibellino-Schultz is a licensed cosmetologist and has been practicing the art of permanent cosmetics since 1999. In both Delaware and PA she has performed thousands of procedures and her impressive portfolio speaks for itself. Former owner of The Skin Care School and Center, her expertise and years of experience have made her the areas most sought after permanent cosmetics artist.
Referring Doctors
Dr. Abel M.D. | The Abel Center for Oculofacial Plastic Surgery
Dr. Fanny J. Berg M.D.
Dr. Peter R. Coggins M.D.
Dr. Joseph J. Danyo M.D.
Dr. Jillian Banbury M. D.
Dr. Ian M. Longergan, D.O. | Aesthetic Plastic Surgery of DE
Dr. Timothy Greco M.D.
Dr. Monica Mehring M.D.
Dr. Jonathan Pontell M.D.
Dr. Katheryn M. Warren M.D.
Dr. David Zabel M.D.
Dr. Jeffrey B. Minkovitz M.D. | Eye Physicians & Surgeons
Dr. Peter Panzer M.D. | Panzer Dermatology Assoc.
Dr. Paul Sabini M.D. F.A.C.S.
Dr. Jonathan Saunders M.D.
Dr. M. Stefanyszyn, M.D. F.A.C.S. | Wills Eye Hospital
Lynn Esdale RN | Lynn Victoria Cosmetic & Medical Skin Care
Dr. Lisa W. Hostetler M.D.
Sarah Lester, Medical Aesthetician
Delmar Surgical & Cosmetic Treatment Center.