GreatStuff HOME A Furniture Resale Shop Like No Other!
|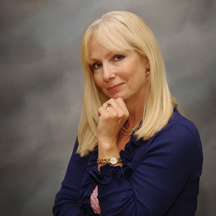 By Dale Maahs, General Manager
As we approach our third year anniversary, we continue to be amazed and grateful for the success of the Delaware Breast Cancer Coalition's upscale savvy resale shop, GreatStuff! When the shop opened in October 2010, we had no clue whether or not the shop would be embraced by our local community or whether it would be able to sustain the volume of donations of upscale clothing, accessories and home accents needed to succeed. Would we be able to attract enough volunteers to help staff the shop? These were just a few of the questions nagging at the back of our hopeful minds!
Well, I am happy to report YES! Our community has embraced us in a myriad of ways and we are extremely grateful for the support from the many friends we have made along the way, for without each and every one of you, we would not have the success that we've experienced. Because of you, our customers, donors and volunteers – we have been able to contribute over $130,000 to the Delaware Breast Cancer Coalition! Great stuff, right? Thanks to all of you our shop continues to thrive and evolve.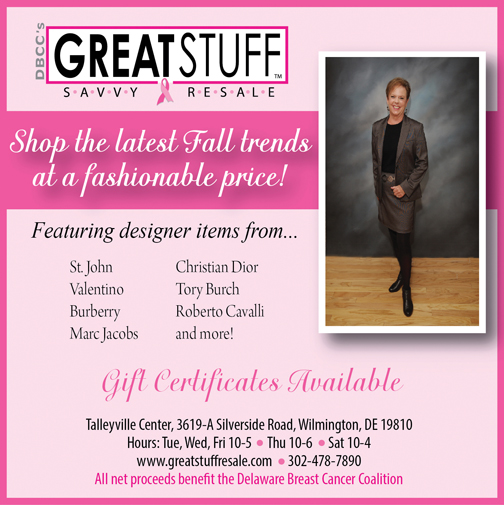 Visit us online at www.greatstuffresale.com or www.facebook.com/GreatStuffResale!
Upcoming Events
September thru October  – Tanger Style of PINK promotion (tangeroutlets.com)
October 5   – 3rd Annual Dewey Goes Pink 5K at the Starboard
October 19 – Northern Lights of Life at Otto's BMW, West Chester, PA
October 19 – Monster Miles for a Cause
October 24 – GreatStuff Savvy Resale Anniversary Celebration
October 24 – GreatStuff HOME Grand Opening
A long the way, we received many inquiries from donors who wished to support our cause by donating pieces of furniture to GreatStuff. We were more than happy to accept those donations into the limited space we have at the shop, but now the questions were, "Where are we going to put the furniture and how are we going to pick up the items or deliver them?". Hmmm…….Well again, a wonderful partnership was formed with a local moving company, Hopkins Moving and Storage, which generously picks up and delivers our donated furniture free of charge! Incredible! Now this led us to the other issue…where are we going to put all of this great furniture? Hmmm…….why not open a GreatStuff furniture annex and call it GreatStuff HOME? A great idea was born! I am very happy to announce the addition of GreatStuff HOME, an upscale home furnishings resale shop which will open just a few doors down from our current shop at Talleyville Center. We are pleased to announce that Barbara Eckels has been hired to manage the shop.
"I am very excited to be part of the DBCC family and am looking forward to continuing the success of GreatStuff Savvy Resale with our new venture, GreatStuff HOME", says Barbara.
The additional location will provide beautiful home furnishings and accents that our savvy customers have come to expect.
We are planning an early October opening…so stay tuned!
Donations for GreatStuff Savvy Resale and GreatStuff HOME are now being accepted. 
Call Dale at 302-478-7890 for more information.