Let's Talk About Engagements
|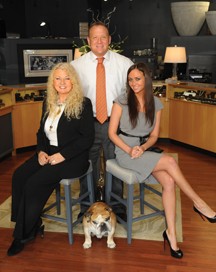 By Nick Dellaquila
Roberta Kozak, Nick Dellaquila, & Corey Grabowksi, Jewelry Exchange Of Delaware Family
During the Victorian era which many consider to be the point at which jewelry was exchanged as an offering of marriage, a man would first offer his prospective lady a five stone ring which was called a promise ring. Some say it stood for "I promise to marry you," yet others would argue it stood for "I promise to love you." Either way, the sentiment of the "promise ring" carried the same connotation. This simple first step gave the young man time to formally ask for the young lady's hand in marriage, which has always began by asking her father for his permission. Once the young woman's father gave his blessing, then came the formal engagement ring.
These days, as almost all aspects of life are less formal and women have become more assertive, couples often shop for the ring together. Although a departure from tradition, considering the many different styles of engagement rings available, this offers her a bit more of a "say" in the style of engagement ring she is to receive and wear for the rest of her life. The days of a simple solitaire or solitaire with baguette side stones being the main choice, are far gone. The choice is often extremely daunting for a young man and help from his young lady or others is often highly appreciated.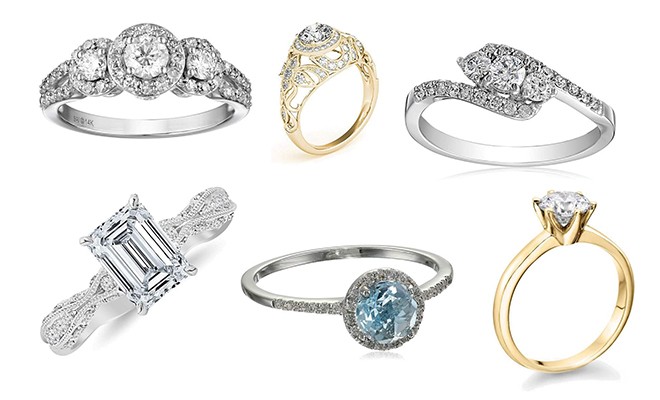 Choosing A Style –
Many of our savvy clients bring in their daughters and sons to see our beautiful selection of antique and estate engagement rings. Sometimes they fall in love with the intricate antique filigree settings and sometimes they opt to for a newer "halo" style ring or just the timeless beauty of a simple yet elegant Tiffany style solitaire.

Do Engagement Rings Have To Be Diamonds? –
While diamonds are the prevalent choice, an engagement ring can feature any stone that is important to the couple, sapphires and rubies are often a good choice for beauty and durability as they are corundum which is next hardest stone to the diamond. Although we have done emerald, aqua and even amethyst in mountings, they offer some additional protection.
Regardless of whether you know exactly what you are looking for or are totally lost and open to suggestions, we always take the time to go over every detail and option.
Make an appointment and plan to stay a while and try on different styles. My advice is to get the largest single stone you can afford and add diamonds to the band later or stack different bands next to the solitaire. If you decide later you like something different, it's an easy remount and you won't have to upgrade your stone. Although if you do . . . that is always something we can help with too.