Let Your Curls Be Your Guide On Your Wedding Day
|
By Dawne Highberger
Fusion Salon Bridal Coordinator, Stylist, and Certified Curl Expert 
There can be many pros and cons when deciding to wear your natural curl. For some, bobby pins and hair ties are uncomfortable; natural hair is the way they feel most themselves. The last thing you want is unnecessary discomfort on your wedding day. If you don't usually play with your hair too much you may feel more beautiful letting it stay in its natural form. Whatever your reason, it is important to know how to prep your hair for your big day. Whether you have waves, coils, or anywhere in between, the key to having wedding-worthy, natural hair is to know and understand your curl type and what it needs to look and feel great!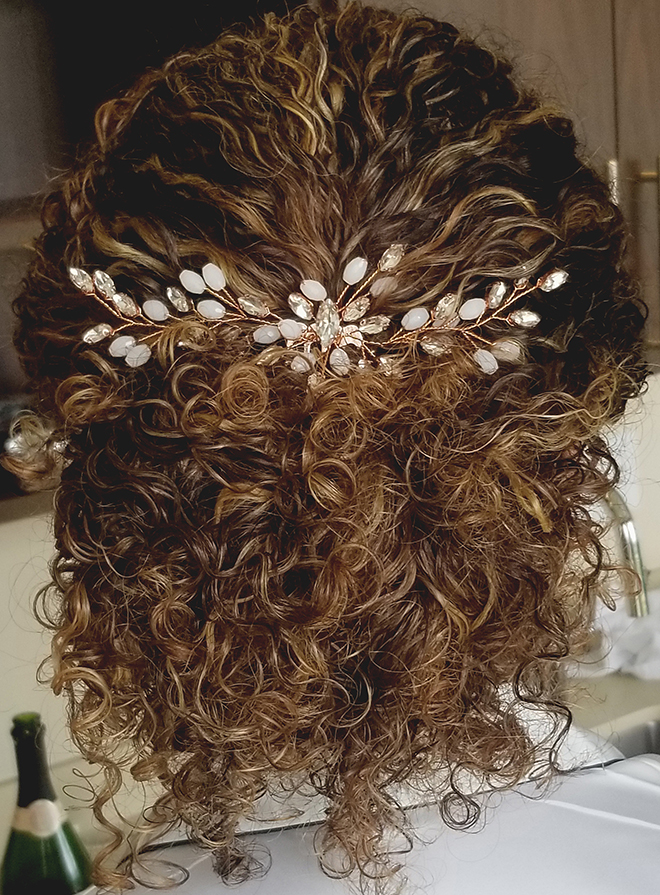 Whether you are planning to do your hair yourself or have it done by a professional, finding someone who is experienced with styling curly hair for weddings will go a long way in helping you prepare your hair for your big day. The first step would be scheduling a consultation or trial with your stylist. A consultation is a short appointment used just to discuss your hair, while a trial is more in depth and involves styling your hair to whatever look you are going for. Making these appointments are important so you can have a professional evaluate your curls and determine what you will need to do in order to achieve your desired wedding look. Depending on how you choose to style your hair, having a proper cut or treatment will go a long way in enhancing your curls to their full gorgeous potential!
Work with your stylist to find the right products for your hair. Moisture is the most important key to natural hair! You will have less frizz, and more natural curl will form with the proper amount of moisture. Frequent conditioning treatments and learning how to correctly condition your hair will make a big difference. There are many salon services that can benefit your curls, such as keratin, Deva, or deep conditioning treatments. When working with your stylist, ask them to teach you how to maintain the proper moisture at home.
Once you have your moisture level under control, you and your stylist can work on figuring out what type of styling products are best for you. With so many different types of products used for textured hair, such as gels, lotions, mousses, or oils, it may take a few different tests to figure out what exactly your hair reacts well to. This is something you can try with your stylist during your appointments leading up to your wedding day.
There are a lot of factors that go into choosing a hairstyle for your wedding day. Is it going to be indoor or outdoor? What time of year are you planning for, and is there going to be humidity? What type of look are you going for? Whether you are wearing your curls down or pulled back, the best way to get natural curls is to let them do what they want to do on their own. Pieces can always be tweaked with a curling iron for a finishing touch, but in order to have them look as natural as possible, while also looking polished, it is important to learn and maintain appropriate maintenance to keep them feeling and looking healthy!
Fusion Salon
Text: 302-784-5713
3444 Naamans Road Wilmington, DE (202 & Naamans)
Call: 302-479-9444