Kimmel Carter Welcomes Heather Long As First Female Partner In Firm's History
|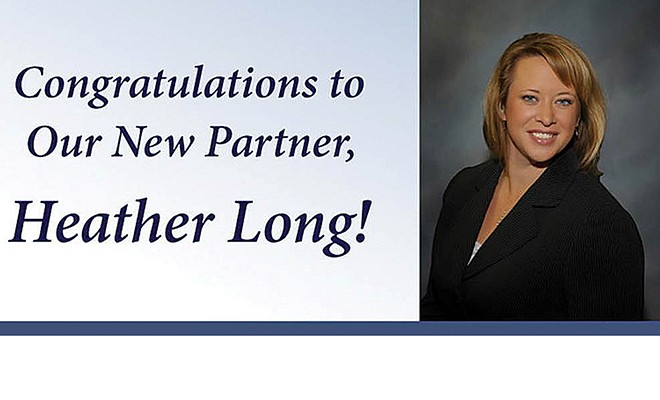 Kimmel Carter Managing Partner Larry Kimmel, President William Peltz, and Partner Jon O'Neill are pleased to announce that Associate Heather Long has been appointed as the firm's newest partner.
"I know I speak for Bill and Jon in saying that we are all very proud and excited to have Heather join us as a partner, following her many years as a valued associate with the firm," says Larry Kimmel.
An experienced trial lawyer and negotiator, Heather joined Kimmel Carter as an associate in 2009. Along with Partner Ed Carter, she has a background in personal injury defense, an experience that has helped her to provide superior service to her clients.
As a Kimmel Carter associate, Heather maintained a strong record of success advocating for both car accident victims and other personal injury victims, as well as for injured workers. In addition to noting her skill as an attorney, Heather's past clients consistently comment on her calmness under pressure, her professionalism, and her compassionate handling of cases.
"When she started at Kimmel Carter, it was immediately clear that Heather fit perfectly into the firm's culture, and she has been an incredible asset to our legal team ever since," Larry says. "She brings a level of creativity, intelligence, and passion to her work that truly sets her apart, and with her record of success securing significant settlements and trial wins for our clients, asking Heather to be partner was the natural next step."
Larry cites Heather's leadership in managing the firm as another reason for her selection as partner. "We have really come to rely on Heather as a leader in the firm's day to day operations, so her transition into the official role of partner will be seamless, I think," Larry says. "Heather manages both our law clerks and file clerks, and she has also played a significant role in the firm's marketing and event planning efforts."
Her promotion will make Heather the first female partner in Kimmel Carter's history, a fact that the firm's leaders view as a major step forward in terms of diversity. "Kimmel Carter is very committed to increasing the firm's diversity efforts, at a time when most American law firms are still overwhelmingly comprised of a pretty specific demographic, especially in leadership positions," Larry said. "So I'm definitely excited about several recent decisions that have improved the firm's diversity, including bringing Heather on as a partner and hiring Emily Laursen as an associate this past January."
For Heather, her status as Kimmel Carter's first female partner is just one reason to be excited about her new role. "When I worked for the defense side, I always hoped for assignments that would allow me to work with the attorneys at Kimmel Carter," Heather says. "Even among the lawyers they opposed, they had an amazing reputation for being strong advocates and also for being cooperative, kind, and genuinely good people. So it was a huge honor when I was hired to be an associate, and, after getting to know everyone at the firm over the past seven years, and experiencing what a joy it is to work here, I was just as thrilled when they offered me the opportunity to become a partner."
"It is especially an honor, of course, to be the first female partner at the firm," Heather says. "I really think that Kimmel Carter has made significant progress lately in terms of diversity. Not only will that progress improve our working environment, I also believe that having a wider range of perspectives will help us to better serve our clients and the community in Delaware."
In her new role, Heather will be among a relatively small, though slowly growing group of women who hold leadership positions at American law firms. According to the American Bar Association, women currently comprise less than 22 percent of all law firm partner roles in the U.S.
While Heather is proud to join that group, she is most eager, she says, to simply find new ways to serve her clients as a Kimmel Carter partner.
"I really value the chance I have to help people to get back on their feet following dramatic, life-changing events, especially with the support of a firm that's as well-respected as Kimmel Carter. I'm excited to see how I can serve the community even more as a partner, and I'm so grateful to the partners for this opportunity, and to the associates and staff for all their help and hard work over the years. I truly couldn't be happier."
More About Heather
Heather graduated from the University of Nebraska-Lincoln and received her J.D. from Widener University School of Law. She is an experienced advocate for personal injury plaintiffs and workers' compensation claimants with a background in personal injury defense, and she has expertise in creative settlements, alternate dispute resolution and mediation.
Heather has coached the Salesianum High School Mock Trial team and has served as a bar exam preparation mentor for the Multicultural Judges and Lawyers Association. For the past few years, she has written a quarterly column for the New Castle Country Women's Journal focused on various workers' compensation issues, particularly in how they pertain to working women.
Heather is barred in Delaware, New Jersey, Pennsylvania, the U.S. Virgin Islands, and the U.S. District Courts in Delaware and New Jersey.