Morris James Welcomes Two New Attorneys
|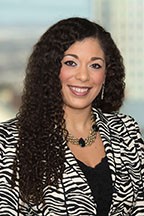 Reneta L. Green-Streett
Reneta L. Green-Streett joins us in our Dover Office and brings over seven years of experience litigating on the other side of the "v" defending insurance companies and insureds. Reneta is an active member of the Delaware State Bar Association, serving on its Executive Committee; is the immediate Past President of the Kent County Bar Association; and volunteers her legal services with the Office of the Child advocate as an attorney guardian ad litem for dependent and neglected children.
Reneta is very much a "local." She was born in Seaford, and grew up on her grandfather's Greenwood dairy farm. Upon graduation from Milford High School, Reneta attended The College of William and Mary where she majored in English and Sociology and minored in Black Studies. After working for Delaware attorney, Patrick Scanlon, Esquire for three years in Milford after college, Reneta returned to The Marshall-Wythe School of Law at The College of William and Mary for her law degree.
Upon graduation from law school, Reneta was pleased to accept a judicial clerkship with The Honorable Robert B. Young of the Superior Court of the State of Delaware, Kent County. After her year at the Court, Reneta took a job with Judge Young's former firm, Young and McNelis, now operated by his son, Jeff Young, Esquire, and his partner, Brian McNelis, Esquire. Reneta remained at Young and McNelis until she joined Morris James.
Reneta lives in Dover with her husband, Branden, who has served in the United States Air Force for the last seventeen years. They share their home with Reneta's mother and three dogs: Delilah (a black Pomeranian), Dixon (a fawn Pug), and Darbi (a black Pug). In addition to spending time with her family, Reneta enjoys spinning and kickboxing. She also collects elephants with their trunks up in homage to her sorority, Delta Sigma Theta Sorority Incorporated.
Reneta is extremely excited to join the experienced group of lawyers that comprise the Morris James Personal Injury Group. She looks forward to representing individuals who need help navigating the scary and complex legal web that is Delaware personal injury and workers' compensation law.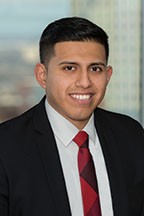 Wilson A. Gualpa
Wilson A. Gualpa joins us in the Broom Street Office to assist with plaintiffs' personal injury cases, including automobile accidents and Workers' Compensation. Wilson is a graduate of the Delaware Law School, where he graduated with Pro-bono distinction and a Certificate in Trial Advocacy. He is a bilingual attorney that can provide services in English and Spanish and is a current member of the Randy J. Holland Delaware Workers' Compensation Inn of Court, the Delaware Trial Lawyers Association, and is the Vice-Chair of Law School Outreach for the Multicultural Judges and Lawyers Section of the Delaware State Bar Association.
Wilson has called Delaware home since the age of eight. As a student at Polytech High School, Wilson played football all four years, captaining the team his senior year. Off the gridiron, he found ways to give back to the community by serving as a member of the Kent County Youth Philanthropy Board. His accomplishments on and off the gridiron earned him the Davidson Scholarship Award from the Quarterback Club of Kent County his senior year.
After graduating from Polytech in the fall of 2008, Wilson attended the University of Delaware where he majored in Political Science with a concentration in Public Law. While at the University of Delaware, Wilson continued serving his community as a legislative fellow for Delaware's House of Representatives. As a legislative fellow he helped draft legislation for the Agriculture, Economic Development/Banking/Insurance/Commerce, and Transportation/Land Use and Infrastructure committees.
He enjoys spending time with his family who reside in Seaford and run their family-owned restaurant. He also enjoys rooting for the Baltimore Ravens and participating in organized basketball and soccer competitions.
Wilson views the representation of plaintiffs injured at work or by the negligence of others as a way to continue to serve the community. He enjoys that his work allows him to help members of the community during one of their most trying and difficult periods of their life.
Visit our website for more information depersonalinjury.com
Download our phone app, available for iPhone and Android users, that provides access to the tools and information you will need in the event of an accident. The app features a Live Chat component, allowing you immediate contact with a live person 24 hours a day, 7 days a week. Locate our app by searching "Morris James" in iTunes or Google Play.

Susan D'Alonzo Ament is a partner with Morris James LLP and has practiced for 33 years representing personal injury victims. Over the years, Mrs. Ament has found that some women don't understand the crucial need to have adequate automobile insurance coverage in the event of a serious accident. Susan Ament educates women on these needs every day in her practice and in seminars that she presents throughout the year.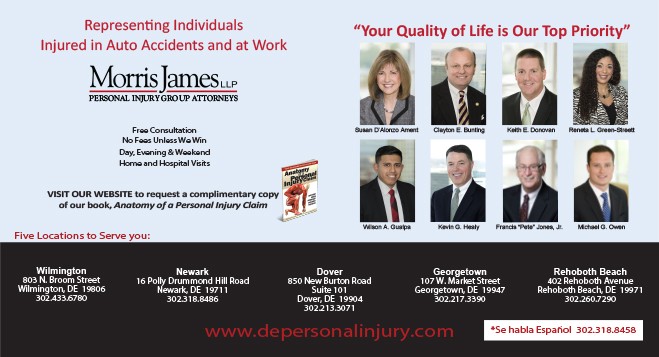 Wilmington   |   302.433.6780   |   803 N. Broom Street   |   Wilmington, DE  19806
Newark   |    302.318.8486 16    |   Polly Drummond Hill Road    |   Newark, DE  19711
Dover    |   302.213.3071 850    |   New Burton Road   |    Dover, DE  19904
Georgetown   |     302.217.3390   |     107 W. Market Street     |    Georgetown, DE  19947
Rehoboth Beach    |     302.260.7290   |      402 Rehoboth Avenue    |     Rehoboth Beach, DE  19971