Hydrafacial™ – For Almost Any Body Part!
|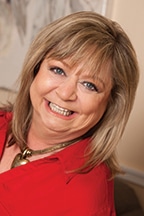 By Joanne Graves, Owner of Sanctuary Spa
This is the perfect time to schedule a HydraFacial™ to combat the harsh drying effects of winter. The HydraFacial MD™ is a method of dermabrasion, or abrading (scraping away), used to exfoliate the skin that combines the application of an antioxidant-based serum under pressure with patented vortex fusion.
The spiral design of HydroPeel Tips, used in conjunction with the HydraFacial™ proprietary vacuum technology and serums, creates a vortex effect to easily dislodge and remove impurities while simultaneously delivering hydrating skin solutions.
I like to use the analogy of a tornado depicted in a cartoon. The vortex, or whirling motion, of a tornado picks up debris as it moves along the ground while, at the same time deposits debris previously swept up.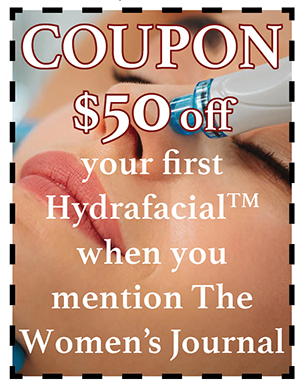 In a similar way, the HydraFacial™ delivers multiple therapies in a single session. Experts in the skin care industry consider it the market's most comprehensive tool. The patented HydroPeel tip infuses nutrient-rich solutions and cleanses deep into the skin's surface, painlessly lifting out blackheads, whiteheads and sebum. Hydradermabrasion, using a  gentle, yet effective blend of glycolic and salicylic acids, thoroughly exfoliates during multiple passes. The final phase of the therapy rehydrates and nourishes by infusing powerful antioxidants into the skin.
What people love about the treatment is the instant gratification! Just 30 minutes for a single treatment and your skin looks and feels hydrated and luminous for days with no downtime at all. You could even make an appointment over your lunch hour and go back to work, sans make-up!
Wondering if HydraFacial™ can treat your skin type? Yep! HydraFacial™ doesn't have a type.  Every skin concern is addressed; fine-lines and wrinkles, elasticity and firmness, skin tone and vibrancy, texture, brown spots, oily and congested skin, and enlarged pores. And not just on the face. HydraFacial™ can be used on virtually any part of the body. For instance, the hand protocol helps dry and aging hands look younger and a clarifying back protocol clears congested skin on the back. There are few skin concerns that the HydraFacial™ can't help to improve.
I invite you to start your journey to skin health by calling your skin professional and scheduling a HydraFacial™ today; you won't regret it.
Contact us at www.mysanctuaryspasalon.com or call us at 302-475-1469 for a personalized consultation!