Hydradermabrasion With HydraFacial MD
|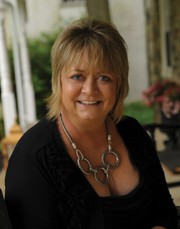 By Joanne Graves, Owner of Sanctuary Spa
Microdermabrasion has been around for some time, but now it's younger, gentler relative, hydradermabrasion is taking spas and skincare establishments by storm. Most notably, due to the popularity and consistently great results of the HydraFacial.
So what is hydradermabrasion?  
It's as effective as microdermabrasion to exfoliate, but instead of using crystals to exfoliate your skin, this gentler approach to treat skin is designed to cleanse and exfoliate with a proprietary glycolic and salicylic acid solution. But it goes much further than cleansing and exfoliating to leave skin super smooth and even-toned. While the machine gently 'vacuums' sebum and cellular debris from pores, it simultaneously delivers powerful antioxidants and moisturizers deep into your skin. These active ingredients hydrate and moisturize, plumping your skin, and healing skin imbalances and more. Estheticians that carry out the procedure talk about 'vortex technology'; this is the technique the machine's spiral heads use to do all of these things in several steps with a hydradermabrasion machine.
What happens in a hydradermabrasion treatment?
The treatment follows six signature steps. First, there's a detox-style lymphatic drainage treatment, which is designed to boost circulation to your face and neck. Then, the esthetician will resurface your skin, removing dead skin cells with the vortex fusion tip, which strips the outermost layer of skin. This is all good; it's just dirt and dead skin cells. Unlike microdermabrasion, where the skin needs to be cleansed manually before the exfoliation treatment, hydradermabrasion carries both out with one applicator head. The next step is applying a gentle chemical peel to loosen any remaining debris in your pores. This part of the treatment is especially helpful if you have oily or acne-prone skin, and for general skin health. Step four is extraction, a feature that's not included in microdermabrasion. The powerful suction is used to extract any remaining debris from pores and remove impurities from your skin. Once your pores have been properly cleaned out, it's time to have the nutrients and other hydrating ingredients delivered via a serum chosen for you by your esthetician. The way these are applied and worked deeply into your skin means that just one treatment can give you immediate, visible results. 
There are several specialty vials that can be added to the treatment that make hydradermabrasion with the HydraFacial system completely customizable. Treatments can also be  completed with red LED light therapy to boost skin rejuvenation. This reduces redness and helps to stimulate collagen production. If you're having treatment for acne, you may have a blue LED session in your treatment which helps kill the bacteria that causes acne. 
Does hydradermabrasion really work?
According to a recent study, yes! Twenty women, aged between 34 and 56 years, were given either six facial hydradermabrasion treatments with antioxidant serum or antioxidant serum applied manually for a total of six treatments. The study found that hydradermabrasion improved skin quality compared to the serum alone and that antioxidant levels were increased. Why not give hydradermabrasion a try – ask your esthetician about the HydraFacial, the premiere name in hydradermabrasion.
HydraFacial is registered in the United States Patent and Trademark Office by Edge Systems LLC. Copyright © 2017 Edge Systems LLC. All rights reserved. P/N 19716-03-A
Testimonials
"I've been getting my nails done here for over 5 years even though I don't live or work nearby. Everyone is always professional. The salon is beautiful and has a very relaxing atmosphere!"  ~ Amyjoy A.
"I love this spa. Everyone is so friendly, helpful, and most importantly, kind. They make you feel so welcome!"  ~ Jodi O.
"Fantastic pedicures and massages. Atmosphere is wonderful and very friendly staff."  ~ Christine C.
"So happy I found this spa! It has a relaxing atmosphere and friendly staff."  ~ Shana S.
"Everything was wonderful!! Great team!! Very welcoming and friendly!!!"  ~ Stefani S.
Say you saw us in The Women's Journal for the special price of just $125, a savings of $50!
Contact us at www.mysanctuaryspasalon.com or call us at 302-475-1469 for a personalized consultation!