The Sacred Space Of Self Care
|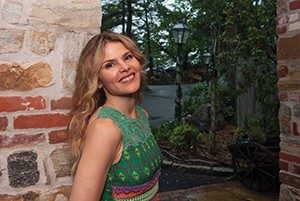 By Christine D'Alonzo, Owner
Amelia Paris is more than your average salon and spa. It's a gathering place for social grooming, rich conversation, authentic connection, heavenly massage, organic skin care, and even photography! Magic happens all around us as the transformation process takes place in the bodies, minds, and spirits of our friends and clients. 
As heads are massaged and our hair is groomed, emotions are set free as we process thoughts which come up during these moments of self care. Your stylist becomes a trusted friend, a confidant. The moments shared with your hair therapist strengthen that bond over time.
Salons connect people. Stylists are also interconnected artists feeding off each other's inspiration and talents to collaborate, discovering new exciting looks and natural solutions to hair tragedies. 
Modern life is intense, busy, and stressful. Amelia Paris is a place to just BE – a holistic wellness center where art meets conversation in a culture that values relaxation, recovery, and investing in the self care that is essential to avoid burn out and overwhelm.
Your comfort and care is our priority. Enjoy a relaxing environment, with lush green plants everywhere delivering fresh oxygen! We build confidence and are chemical conscious, choosing hair color that is non ammonia, and PPD free. We are here to share our passion for beauty with you and your loved ones in a safe, loving environment.
We are blessed to give our talents to you through these gifts of service and our tight-knit team is always growing – looking for new members with the special skills to take your transformation experience to the next level. Our newest additions are Yomar, Jordan, and Cienna. We are growing to meet the needs of our guests. 

We are an art gallery and YOU are a part of the art. 
Come relax with this award-winning staff, let us care for you!
Testimonials
"I am completely sold after one visit. Every single person is cheerful and friendly, loved my haircut and am going back soon for color. Can't think of anything that could be improved!"
"First time going here and I loved it. Got a wash, cut, and blow-dry, then my eyebrows. Both ladies were wonderful and really tailored to my requests. I even got a mini facial when getting my eyebrows waxed. Then they gave me a gift bag of samples and $15 gift card to use on my next visit. Will be back there soon!"
"The amount of care and consideration the staff have for their clients is unprecedented. I had my hair cut and color by the owner Christine, and a facial done by the amazing esthetician Jordan. The time spent with them was like time with old friends. They get to know you, really know you. And they make your time there seem like time away from all your worries or troubles. My hair cut and color was done perfectly, and my facial was relaxing and detoxing. Christine massaged my BRAIN. After a long week, it was exactly what I needed to regroup. Anyone there is amazingly capable and the customer service was fantastic. No better place in the area. Stop googling… this is where you want to go."
Call 610-558-4911 or visit www.amelia-paris.com