For Personal And Professional Service
|
SERVICES PROVIDED
•  Honeymoon Planning
•  Destination Wedding Accommodations – Local or International
•  Vacation Planning
•  Girlfriend Getaway Packages
Simpson Travel, LLC will customize your honeymoon or vacation while offering competitive rates and personal attention.
We realize that wedding planning can be quite stressful and time consuming. We feel that planning a honeymoon should not be.
Whether your dream honeymoon package consists of an all inclusive resort, a luxury cruise, a private beach getaway, or anything in between, Simpson Travel can put together a honeymoon package tailored just for you. Our process includes researching your destination(s), researching pricing, making sure a honeymoon package is available, finding the best flights, and much more.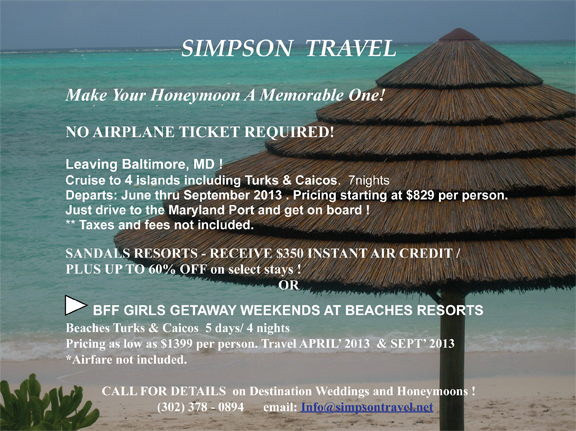 Contact Simpson Travel and
"Leave the Details to Us"
Phone: 302-378-0894 or
866-567-4270
Email: [email protected]
Web: www.Simpsontravel.biz
Testimonials:
Dear Crystal, We would like to express our sincere appreciation for the services you provided in coordinating travel for our destination wedding in Los Cabos, Mexico. You were able to ease my nerves and maintain honesty, efficiency, and integrity as your professional and personal standards. Many of my guests commented on how helpful and kind you were when planning their travel. You even made yourself available to me once I was in Mexico and needed further assistance, whew! Beyond the professional service you provided you became a friend in the process. We will definitely continue to recommend you to others and look forward to planning our one-year anniversary trip with you! With heartfelt thanks,   ~ R. and E. Winslow
With all our traveling together, my husband and I have never used a travel agency. Preparing to plan ourhoneymoon, together we've decided to use a travel agency because it was for a special occasion and we used Simpson Travel, which was a referral from our parents. It was the best decision we've made! Our agent was Crystal, and we were taken care of extremely well. All of the location options she recommended to us madeit hard to decide. Finally we decided on the resort, Royal in Cancun. It was AMAZING! The staff was magnificent and made us feel like royalty. We are looking forward to using Simpson Travel again for future travel.     ~ R & J Smith.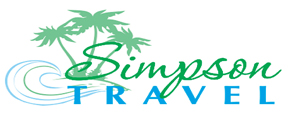 For further information please call Simpson Travel 302-378-0894 OR
email [email protected].
Check out additional specials at