Fibromyalgia Solutions
|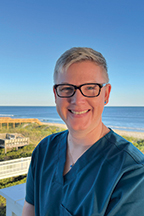 By Dr. Ashley Adams, founder DelMarVa Acupuncture & Wellness Center
Fibromyalgia, also known as FMS, is a common disorder that has no exact cause, but a variety of factors could be working together that may cause the body's pain signals to go awry. These various factors include:
Genetics: There may be certain genetic mutations that may make you more susceptible to developing the disorder.
Infections: Some illnesses appear to trigger or aggravate Fibromyalgia.
Physical or emotional trauma: Fibromyalgia can sometimes be triggered by a physical trauma, such as a car accident. Psychological stress may also trigger the condition.
This condition is often characterized by widespread pain, soreness, fatigue, and difficulty sleeping. 
Common experiences 
Pain that is difficult to identify or pinpoint.
The feeling that others expect so much from you because they can't see that you're sick.
The feeling that everything hurts.

 

Feeling of brain fog.

 

Overwhelming pain and fatigue that causes you to avoid social or family activities.
Maybe you've tried physical therapy, pain pills, injections, burning off the nerve, back cracking, or massage, which provided some relief at first but is no longer working. 
Are you afraid your pain is getting worse?
Are you tired of not getting any answers?
Does your doctor tell you the pain is "all in your head" and to "just live with it"?
DelMarVa Acupuncture & Wellness Center is providing the solution! 
Dr. Ashley Adams with DelMarVa Acupuncture & Wellness Center customizes treatment plans to each patient specifically around their symptoms to help them reach their goals as best as we can!  
"Our specialized acupuncture treatments combined with the vitamin therapies we offer is what we recommend for optimal results with fibromyalgia!" says Dr. Adams. "With fibromyalgia not being completely understood as a diagnosis, traditional treatments normally leave patients with no hope. They start to seek alternative therapies, which is where we come in."
Vitamin therapy is very helpful when treating fibromyalgia!
With fibromyalgia patients typically suffering from muscle or nerve pain, our Myers Cocktail IV is perfect for addressing those concerns when combined with a specialized treatment plan from Dr. Adams. Nutrients like magnesium, vitamin C, and vitamin B are included in our Myers Cocktail and provide a helpful hand when treating fibromyalgia. They directly affect the proper functioning of the muscle and nerve cells while reducing inflammatory processes.
Why an IV when you can just take these nutrients with over the counter capsules?
When taking capsules of vitamins and nutrients, your body only absorbs at the most 20-25% of what you are ingesting. When receiving an IV at DelMarVa Acupuncture's IV Therapy Suite, we administer these nutrients directly into the bloodstream, providing 100% of bioavailability to the body!
Leaving your body to absorb as much of the nutrients as it needs! 
When you combine the treatments of acupuncture and IV vitamin therapy at DelMarVa Acupuncture & Wellness Center, your goals become much more achievable! 
Dr. Adams and the staff of DelMarVa Acupuncture & Wellness Center is here to help!
If you or a loved one is dealing with the difficult diagnosis and symptoms of fibromyalgia, call our patient care coordinators today to schedule a consultation for just $40.
Bio
Dr. Ashley Adams, founder of DelMarVa Acupuncture & Wellness Center, is using the time tested science of Acupuncture, combined with technology originally developed by NASA that assists in increasing blood flow and expediting recovery and healing, to treat this debilitating disease.
DelMarVa Acupuncture uses the most cutting edge and innovative integrative medicine. Specializing in chronic pain cases, specifically those that have been deemed "hopeless" or "untreatable," she consistently generates unparalleled results. What was once a missing link in senior healthcare is now easily accessible to the residents of Milford and surrounding areas.
If you've missed too many tee times because of pain, or you've passed on dancing along to songs of your youth because you're afraid of falling, it's time to give yourself a new opportunity!
Let us  help you with your fibromyalgia
Call (302) 265-2751 to schedule a consultation
1005 Mattlind Way, Milford, DE