Candy & Drew, Their Story
|
Presented By Sue Bernetich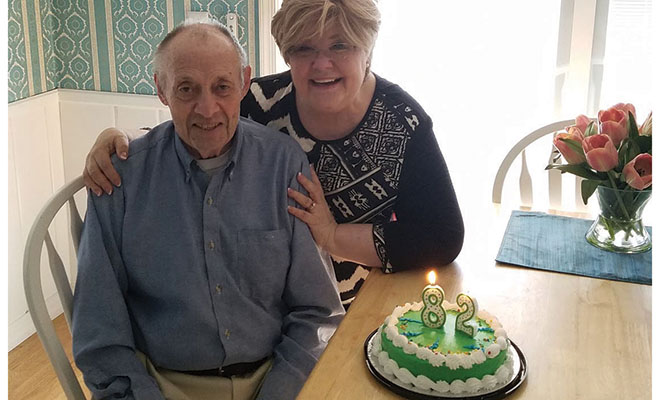 Before her husband of 44 years began showing signs of Alzheimer's disease, Candy Abbott had a busy career as an author, speaker, and publisher. When caring for Drew became her primary vocation, Candy threw as much love and energy into her new role as she had any other aspect of their marriage or her work.
But taking care of herself? That's something Candy was never good at—and she was running herself ragged. Fortunately, her Delaware Hospice team was there to look out for her. "Through Delaware Hospice, I was able to connect with a lot of people who supported me," Candy explained. "They encouraged me to take care of myself—the last person I wanted to take care of."
Candy learned about Delaware Hospice through her support group for Alzheimer's caregivers. She soon signed up for Delaware Transitions—a free Delaware Hospice program that connects seriously ill individuals and their caregivers with community resources. As Drew's disease progressed, he enrolled in the Delaware Palliative program, and later in Delaware Hospice's home-based hospice care program. "I never planned whether Drew would stay home or go to a nursing facility," Candy explained. "Because of Delaware Hospice, I could keep him at home with me the whole time. It was such a comfort to have him nearby, even when he didn't know who I was."
To help lighten Candy's load, the Delaware Hospice team arranged for a volunteer to give her a three-hour break every week—allowing her to get out of the house and come back refreshed. "I learned to enjoy my own company, to get away from everything. I would go out for breakfast and read my Kindle," Candy said. "By the time I got home, I could think more clearly. I hadn't even realized I wasn't able to do that anymore until I got away for a break." Even though having time out here and there seemed to be just what the doctor ordered, using the Delaware Hospice Center for respite care was an idea Candy struggled with for a long time. 
As Candy began having health problems of her own, finding someone to care for Drew during her periodic hospitalizations became a challenge. She knew she needed to start taking advantage of the respite care included in Drew's hospice benefit. Finally, she decided to make the leap and give the Delaware Hospice Center a shot. "Having Drew at the Center was a lifesaver. I kept hesitating because I didn't know if Drew could handle being away from me for five days straight. But he managed just fine," said Candy, who began coordinating her own inpatient hospital procedures with monthly respite stays for Drew. 
At first, Drew resisted the idea of going to the Delaware Hospice Center. Once he was there, he was so impressed by the Center that he was concerned how they would pay for it! When Candy told him it didn't cost anything, he rolled his eyes and said, "Right." But she was right. Cost never gets in the way of care at the Delaware Hospice Center. Medicare covers the majority of the costs of hospice services, while many private insurance plans include a hospice benefit. And thanks to generous donors, Delaware Hospice is able to cover the cost of services provided to uninsured patients. 
"I cannot say enough about the caliber of the care, the tenderness and compassion, the patience of the staff," said Candy. "And the facility itself is like a five-star hotel. Incredible!" Located in Milford, the Delaware Hospice Center blends state-of-the-art technology with specialized, 24-hour expert care in a comfortable, home-like setting. It offers families a warm and inviting alternative to hospital care for their loved one during times of increased medical needs, as well as brief respite stays. In addition, the Center has comprehensive COVID protocols in place to keep families connected and patients safe. "Over the course of our journey, I took advantage of everything that hospice had to offer, from respite care and caregiver education to grief counseling," Candy recalled. "And I wouldn't have it any other way."
If you could use a little break from your caregiving role, the Delaware Hospice Center is here for you. For more information about respite care at the Delaware Hospice Center, call 800-838-9800 or visit www.delawarehospice.org/programs/the-delaware-hospice-center..
800-838-9800     delawarehospice.org