Artisans' Makes Getting A Mortgage Easy
|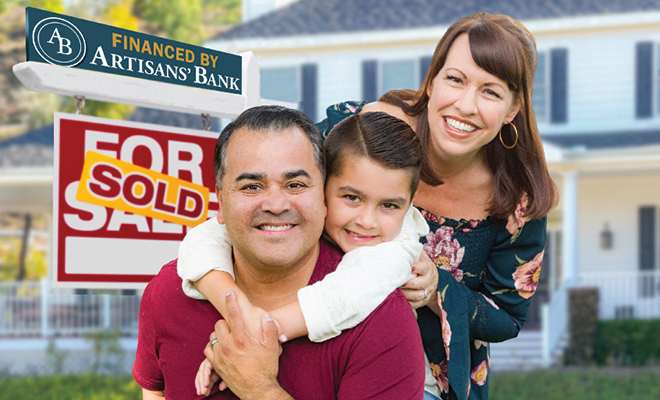 Build for your future with Artisans' Bank
The process of getting a home loan can seem daunting, especially for first time home buyers. The home loan specialists at Artisans' Bank have the knowledge and expertise to guide you through that process with ease. Mortgage lending specialists Michele Speary and Tom Keehan are always ready and happy to help find the perfect mortgage for you.
"Artisans Bank is a local community bank, and loan decisions are made here," said Speary. "We have many different products to offer that help our customers buy their dream home, including affordable options for first time buyers with discounted rates and fees"
Speary and Keehan enjoy helping people through the home loan process. They take the time to get to know each customer and to become acquainted with their needs.
"I love being a lender because I love helping people buy their first home or even to possibly buy a second or investment property home," said Speary. "I love explaining it all so the buyer is more comfortable and knowledgeable about the whole process. I was an underwriter before I was a lender, so I know what the underwriter is going to require, and I get most of that information upfront to make the process go smoother for the customer."
Keehan agrees that finding the right home loan for the right person is a rewarding experience.
"I have been making loans for more than 30 years. It feels great to connect someone with the right loan to achieve their dreams and goals," he said.
Artisans' Bank has a wide range of home loan products including traditional fixed-rate loans, adjustable-rate mortgages, VA loans, FHA loans, construction loans and home equity loans. For new homeowners, Artisans' offers special services including discounted rates and fees. On the Artisans' website, ArtisansBank.com, first time buyers can also find links to educational articles that answer many questions about buying a home.
A big benefit of securing a home loan with Artisans' Bank is that all loan decisions are made locally, in the community. Most big banks now make loans decisions through a computer program. However, because Artisans' is a local bank, Michele and Tom take their time to get to know the applicant and their loan needs.
"The fact that Artisans' can look at the individual needs of someone looking for a home loan or a Home Equity Line of Credit and make the loan decisions in-house is something that makes Artisan's stand out from other banks," said Keehan.
To find out how Artisans' Bank can help you find your new home, or to learn about what a Home Equity Line of Credit can do for you, contact Artisans' at 302-884-6868 or stop by your local branch. You can also learn more at ArtisansBank.com. If you are visiting or live in Sussex County, be sure to visit the new Branch and Business Center on Route 24 in Rehoboth Beach.
Founded in 1861, Artisans' Bank (Total Assets $670 million as of 06/30/2022) is a locally managed, mutually owned, community bank headquartered in Wilmington, Delaware with 12 retail branch locations and 2 community-based lending hubs in Kent and Sussex County. The Bank offers commercial and retail banking services in Delaware and contiguous counties in Pennsylvania and Maryland. Member FDIC. Equal Housing Lender. NMLS#774924. Visit ArtisansBank.com for more information.
Artisans' Bank