Fitness For Your Branding
|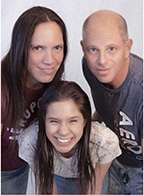 Branding, like fitness, requires a consistency to keep the ROI in order for your business to work properly. 
Mike, Trisha & Arianna Fox
SPLASH DESIGNWORKS • www.splashdw.com
"Branding or re-branding is your business'es distinct and specific identity that makes it stand out from the rest." – Mike & Trisha Fox
Did you know that the origin of the word "branding" came from farmers and cattle owners branding their cattle with a hot iron? The reason was simple: to distinctly mark their cattle so that if they happened to roam outside of their owners' property, or if someone stole the cow, everyone could easily know who owned that cow. It was a signature mark signifying a unique brand of ownership. Voilà—branding.
PERCEPTION IS REALITY
In our current day, branding is all about creating a strong, unique, and positive perception of a particular company, business, or organization. It consists of many items, including a logo, a website, a mission statement, theming, colors, style, a tag line or slogan, and more. Branding is how successful entrepreneurs let everyone know whose company it is. 
In a Zendesk survey, 87% of consumers said consistent branding across all online and traditional platforms was important.
So whether it be in your email, your hats or shirts, your website, your invoices, your vehicle wraps, your video commercials, or in other places, your branding must remain consistent—and you must also be persistent.
Branding can have a major impact on your bottom line, a.k.a. sales, by giving you a advantage over your competitors, and by helping you acquire and retain customers—that is, unless your branding is old or unprofessional, or it misrepresents who you are as a company, as well as the audience you're trying to reach.
Bottom Line
Professional branding is strategic; marketing is tactical. When you mix the two, you get ROI on your marketing investment.
We at Splash Designworks suggest that you avoid à la carte purchases and instead consider investing in an overall marketing strategy and plan that includes all of your branding into an integrated effort that establishes your business in a multi-platform plan.
In conclusion, a brand should leave the customer or potential customer with a positive and good feeling about purchasing what you have to offer. Whether you're a dentist, medical professional, mechanic, mental health or food coach, or you provide transportation services, any and all industries and careers fall under the same need for professional, creative, and consistent branding.
Splash Designworks has been helping others with successful branding, design, and marketing strategies for years, and we are ready to help you and your business. Let us know how we can help boost your company to the highest level!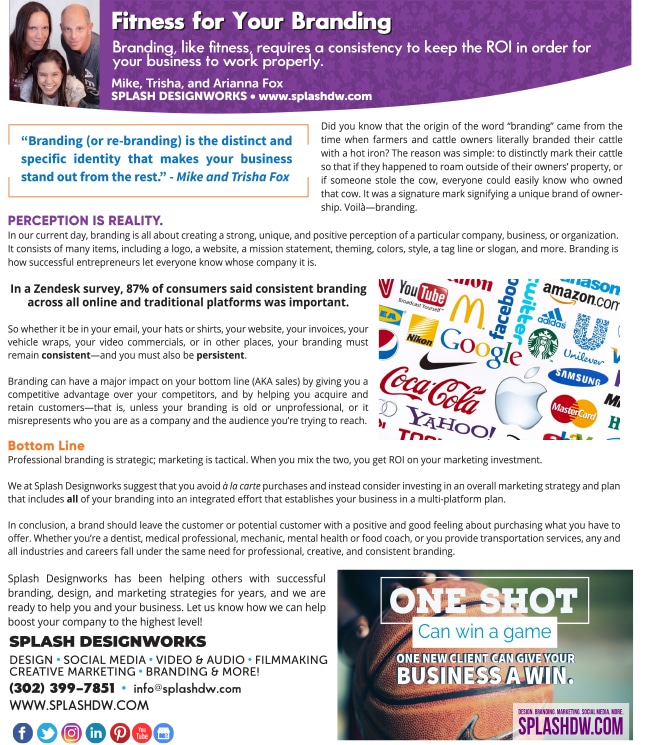 SPLASH DESIGNWORKS
Design • Social Media • Video & AUDIO • FILMMAKING
Creative Marketing • Branding & more!
(302) 399-7851  •  [email protected]
www.splashdw.com