People In Profile 4th Quarter 2022
|
(click on magazines above to view flip-thru version)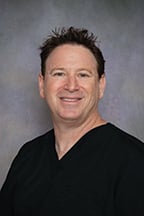 Bradford Klassman, D.M.D
Dr. Bradford Klassman received his Certificate in Periodontics from the University of Pennsylvania, his D.M.D. from Temple University, and his B.S. from University of Pennsylvania. He is also a Diplomate of, and certified by the American Board of Periodontology, a distinction held by fewer than 2% of dentists in the United States. He is a member of the American Dental Association, Delaware State Dental Society, American Academy of Periodontology, the Institute for Advanced Laser Dentistry and is also on staff at Temple University Department of Graduate Periodontics. 
Dr.  Klassman strives to provide his patients with the most comprehensive and technologically advanced periodontal and implant treatment available. With a state-of-the-art facility, Dr. Klassman is the first dentist in Delaware to offer his patients the I-CAT, the most advanced 3Dfacial imaging technology available today. Dr. Klassman is also the first practice in the area to offer Laser Periodontal Therapy® for the treatment of gingivitis and/or periodontitis. Laser Periodontal Therapy® is a safe, effective and minimally invasive outpatient treatment for periodontal disease that does not require scalpel or sutures. He is also the only dentist in Delaware to offer partial extraction therapy to preserve tissue in implant therapy. Dr. Brad and the Delaware Periodontics Team is proud to be recognized as the only Nobel Biocare All-on-4® center in the region and to provide his patients with a virtual "Same Day Smile" by using single implant(s) or the All-on-4® Protocol. The All-on-4 Protocol uses only 4 dental implants to replace an entire arch of teeth. By having the extractions, implant placement, and temporary restoration on the same day, Dr. Klassman puts a smile back on his patient's face in no time. This technique allows him to correct bite problems that were not correctable with other treatment options. 
At Delaware Periodontics, Dr. Bradford Klassman offers periodontal and implant care with an emphasis on total body health. Dr. Klassman partners with top practices as co-therapists to strengthen and support comprehensive and esthetic oral health.
Dr. Klassman lives in the Wilmington area with wife Holly. Dr. Brad is an avid fisherman and an excellent cook. He often enjoys sharing his "catch of the day" with his staff. He is an advocate for health, nutrition and wellness. Dr. Brad supports a variety of charities, and has even contributed time and talent to the Trudi Birger Dental Volunteers clinic in Jerusalem, Israel.
Delaware Periodontics    1110 N. Bancroft Parkway, Wilmington, DE
www.delawareperiodontics.com      302-658-7871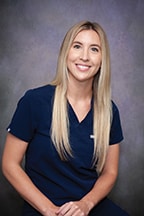 Kaitlin Chrobocinski, D.M.D
Dr. Kaitlin Chrobocinski earned her Doctor of Dental Medicine degree from Kornberg School of Dentistry at Temple University in 2015. She then specialized at Temple University in Periodontology and Oral Implantology in 2022. During this time, she also completed her master's degree in Oral Biology. She is currently board eligible and she will be sitting for her board exam in May of 2023.
Dr. Chrobocinski was drawn to periodontics because the specialty focused on helping patients keep their natural dentition for as long as possible. Training for an additional three years beyond dental school allowed for her to gain experience to take on esthetically challenging and complex cases. Whether her patients are interested in maintaining their natural teeth and treating periodontal disease, implant placement, or addressing their esthetic concerns, she can offer solutions for each patient's individual concern.
Dr. Chrobocinski is a member of the American Academy of Periodontology, American Dental Association, Academy of Osseointegration, Montgomery Bucks Dental Society, and International Team of Implantology.
In her free time, she enjoys outdoor activities such as cycling, kitesurfing, and yoga.
Delaware Periodontics    1110 N. Bancroft Parkway, Wilmington, DE
www.delawareperiodontics.com      302-658-7871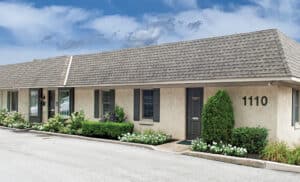 Thank You To Our Location
We would like to thank The White Clay Creek Country Club, located at 777 Delaware Park Blvd Wilmington, DE 19804, for allowing us to shoot our photos on their grounds. Check them out at www.whiteclaycreek.com. For reservations and information, you can also call 302-994-6700 ext. 7194
Thank You To Our Photographer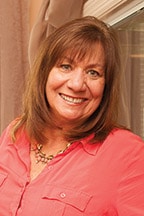 I would like to thank Debra Zeccola of Debra Zeccola Photography of Newark, DE for being our photographer for our profiles and covers photoshoot. Debra has over 28 years of experience as a licensed professional photographer. Debra provides her clients with outstanding photography services for weddings and events, family and individual portraits, baby photos ,and so much more. Debra is a joy to work with, and I couldn't ask for a more professional photographer than Debra.
Debra Zeccola Photography     302-540-5800
[email protected]      www.debrazeccolaphotography.com