Permanent Cosmetics – Staying Safe & Beautiful
|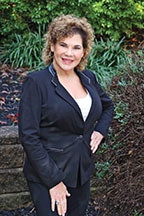 Carmella Gibellino-Schultz
Written by Kyra Miller
Every woman loves finding the perfect lip color, and loves it even more when it actually stays in place instead of smudging! It sort of feels like this constant struggle. Out there somewhere is a graveyard of dozens of lipsticks you've used over the years that just didn't look quite right, and smudge all over five minutes after applying! It's become even harder to keep our lips looking beautiful when putting on and taking off masks. 
You don't need to give up on having perfect lips with a beautiful color. Because of this, many women are turning to the lip blushing procedure at The Permanent Cosmetic & Lash Studio to find that perfect lip color they deserve – that stays in place while being safe!
A question that comes to mind for all new clients is, 'How permanent is permanent?'. Since cosmetic pigment is made of all natural ingredients, it does fade over time. This will vary due to your skin type, sun exposure, and the use of Retin-A or glycolic products. Most clients come back for touch-ups every 1-7 years, but recently we've had clients from almost 20 years ago come back with their cosmetics still looking beautiful! Permanent cosmetics can be a life-long investment and a true gift to yourself, especially our lip blushing procedure.
At our studio we practice intradermal pigmentation, which is a revolutionary method of placing natural, mineral-based pigments into the dermal layer of skin. The end result of our lip blushing procedure isn't to create a dense, lipstick-type look, but to make the lip look healthier, more youthful, and defined. Although, if you are looking for a lipstick-type look that is still something that can be achieved! The beauty of permanent cosmetics is that it is completely customizable to who you are.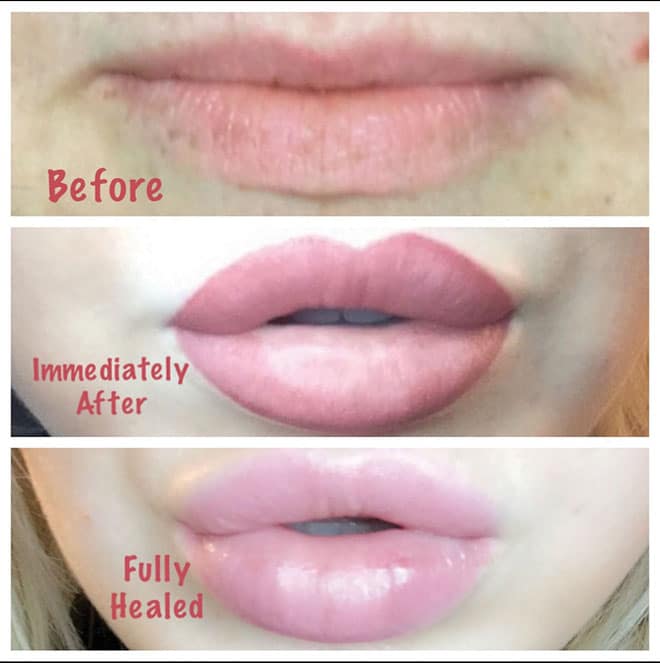 The most important goal of this procedure is to restore the prettiest mouth that you just couldn't see due to the blurring of your natural lip line. The sun is the leading cause of losing your lip edging, but this can happen to anyone between the ages of 17-90! Many women think that getting lip filler can answer their prayers, but although filler can be a great option, they will still be colorless without permanent cosmetics.
All in all, there are so many advantages to permanent cosmetics. It's such a great way to simplify your life and to make getting ready hassle-free. All you will need is lip balm to ensure your lips look perfect when you take off your mask to sit down at dinner with friends or loved ones. Lastly, it is also great for women who have allergies to makeup or have very sensitive skin.
Your comfort and safety has always been our number one priority, but in light of the COVID-19 outbreak we have upgraded our safety measurements even further. Carmella and her entire staff are OSHA BPP (bloodborne pathogen) certified – guaranteeing proper sanitation protocols are followed. Our Studio complies with all CDC requirements, we have installed an ozone air filter for proper air circulation, and we use an ultraviolet sanitizer on all supplies. All appointments are one-on-one.
To ensure your comfort, topical numbing agents are used and re-applied throughout your procedure. With the sounds of spa music playing in the background, you may just fall asleep during your procedure – many do, and wake up with makeup!
If you are interested in learning more about permanent cosmetics, please visit our website www.permanentu.com. Do not forget to check out our credentials on our website as well! To schedule a consultation, call or text our studio 610-883-0636.
Bio
Carmella Gibellino-Schultz is a licensed cosmetologist and has been practicing the art of permanent cosmetics since 1999. In both Delaware and Pennsylvania, she has performed thousands of procedures and her impressive portfolio speaks for itself. Former owner of The Skin Care School and Center, her expertise and years of experience have made her the area's most sought after permanent cosmetics artist.
Testimonials
"Single best investment I've ever made on myself!"  ~ Joan L.
"It never smudges, never smears, it's always perfect!" ~ Linda S.

Referring Doctors
Dr. Abel M.D. | The Abel Center for Oculofacial Plastic Surgery
Dr. Fanny J. Berg M.D.
Dr. Peter R. Coggins M.D.
Dr. Joseph J. Danyo M.D.
Dr. Jillian Banbury M. D.
Dr. Ian M. Longergan, D.O. | Aesthetic Plastic Surgery of DE
Dr. Timothy Greco M.D.
Dr. Monica Mehring M.D.
Dr. Jonathan Pontell M.D.
Dr. Katheryn M. Warren M.D.
Dr. David Zabel M.D.
Dr. Jeffrey B. Minkovitz M.D. | Eye Physicians & Surgeons
Dr. Peter Panzer M.D. | Panzer Dermatology Assoc.
Dr. Paul Sabini M.D. F.A.C.S.
Dr. Jonathan Saunders M.D.
Dr. Ronald Lohner
Paul S. Kim, M.D.
Gary F. Wingate, M.D.
Dr. M. Stefanyszyn, M.D. F.A.C.S. | Wills Eye Hospital
Lynn Esdale RN | Lynn Victoria              
Cosmetic & Medical Skin Care
Dr. Lisa W. Hostetler M.D.
Sarah Lester, Medical Aesthetician | Delmar Surgical & Cosmetic Treatment Center.
Carol J. Hoffman MD |    Kremer Eye Center