People In Profile 3rd Qt 2019
|

(click on each magazine to flip thru the issue)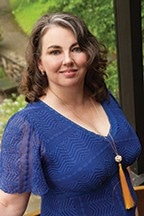 Heather Love
Chef Heather Love came from impoverish beginnings. Raised in a small farming community in southwest Virginia, she started helping her family and members in the community at a very early age. She inherited her mother's organizational skills and her granddaddy's heart. She fell in love with community projects by watching her family host molasses weekend and by helping with community apple butter making weekends. She was mesmerized by the methodology of farming and gardening and by the abundant sharing and community engagement. She was inspired by how food brings together a community.
Heather joined the US Army at the age of seventeen and later spent the first half of her civilian career in the business world. She then purchased a café for the start of her "living the dream" chapter. Over thirteen years, Heather has continued to develop and refine the principles for running a highly successful small business. Her unique approach to employee relations has disproven industry norms. Building the café helped to hone her organizational, communication, and leadership skills.
The skills Heather has gained at Whereabouts Café allow her to transition into the business consulting world. She understands the inner workings of a kitchen and what teams need to keep a resultant successful. She continues to develop and organize procedures and to turn the procedures into individual and team checklists. Her leadership style helps develop business/restaurant solutions thru personal accountability, proper training, and management participation. In her spare time, Heather is an active advocate for equal rights and mental illness awareness, leads a chronic pain support group that focuses on building healthy eating and drinking habits, and is developing a cookbook. She lives with her husband Marcus in Glasgow, Delaware.
Whereabouts Café, 214 Peoples Plaza, Glasgow, Newark, Delaware
302-836-3365 www.whereaboutscafe.com
Laura Dougherty, D.D.S.
Dr. Laura A. Dougherty chose her career path at age seven when she found herself at the orthodontist, speech therapist or general dentist too many times to count growing up. She finds that the most rewarding aspects of her career are being able to help ensure patients have a comfortable dental experience and seeing her patients gain confidence when they see their newly restored, beautiful smiles as her dental providers gave her growing up.
Born and raised in Delaware's Sussex County, "Dr. D" earned a Bachelor of Arts degree in Biology from the University of Delaware in 2001 before going on to study dentistry at the University of Maryland's Baltimore College of Dental Surgery, achieving her Doctorate of Dental Surgery degree in 2006. After completing her General Practice Residency with the Christiana Care Dental Residency Program, she went into private practice for 11 years prior to opening Dougherty Dental Solutions in 2018.
Dr. D, is a proud and active member of the Delaware Academy of General Dentistry, American Dental Association, and the Delaware State Dental Society, as well as a Delaware Top Dentist for the past three consecutive years.
Dougherty Dental Solutions is a small family friendly general and cosmetic dental office maintaining and creating beautiful smiles for over 35 years. Dr. Dougherty and Dr. King are active members of the community, dedicated to providing families in their area with a lifetime of dental health and beauty. "DDS" is proud to offer some of the most advanced technology in order to make sure their patients are as comfortable as possible during their treatment.
Laura Dougherty, DDS Dougherty Dental Solutions DoughertyDentalSolutions.com 302-475-3270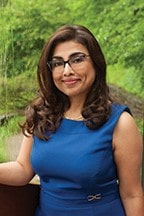 Ghazala Farooqui, M.D.
Dr. Ghazala Farooqui is the founder of Apollo Health and Wellness, which is a physician-led practice in Integrative and Aesthetics Medicine. After working for over a decade in Delaware as a Pulmonologist and Sleep Specialist, Dr. Farooqui went on to complete Integrative Medicine Fellowship under the direct mentorship of Dr. Andrew Weil at The University of Arizona. Integrative Medicine takes into consideration an evidence-based methodology to combine Traditional Chinese Medicine, Ayurveda, and Mind and Body Therapies with traditional (allopathic) medicine for maximum health benefits. Her focus is on Pulmonary and Sleep disorders, Pain Management, Weight Loss, and Sexual Health through an Integrative Medicine approach.
Dr. Farooqui believes that the body has an innate ability to heal itself, and based on this philosophy, she offers a variety of aesthetic treatments. She is an expert on non-surgical Platelet Rich Plasma procedures and is the first physician in Delaware to offer Vampire Facelift®, Vampire Facial®, Vampire Hair Restoration®, O-Shot®, and P-Shot®. She takes pride in performing all the procedure by herself, which also gives her the opportunity to educate her patients and clients about their health and wellness.
She unwinds with traveling, photography, painting, and hiking in Delaware Parks. She has been married for 22 years with two beautiful children and all of them love photography. So, if you come across a family of four, each holding a camera of their own in DE State Parks, it's very likely her family.
For more information on services offered, visit her website at www.apolloforme.com. For weekly updates and health tips follow her on Facebook at https://www.facebook.com/apollo4me/ and Instagram at https://www.instagram.com/apolloforme/.
Apollo Health & Wellness, 5509 Kirkwood Highway, Wilmington DE 19808
302-994-2273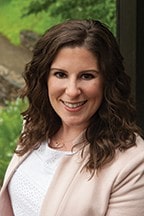 Jessica M. Bell, Au.D.
Dr. Jessica M. Bell is the Director of Audiology at Riddle Hospital, part of Mainline Health, in Media. She is a graduate of The Pennsylvania State University where she earned her Bachelor of Science degree and of Towson University where she received her Doctor of Audiology degree. Dr. Bell is a licensed audiologist, a member of the Pennsylvania Academy of Audiology, and fellow of the American Academy of Audiology and Academy of Doctors of Audiology.
Dr. Bell has been practicing audiology for eight years. She has experience as a clinical audiologist in a medical setting, as well as in private practice, and she spent three of the years working for a leading hearing aid manufacturer by training audiologists on new hearing aid technology.
For the last 4 years, Dr. Bell has settled in working at Riddle Hospital, providing diagnostic testing, and creating hearing treatment plans to suit her patient's individual needs. Dr. Bell truly loves going to work every day knowing that she gets to help someone hear better!
Outside of work, Dr. Bell enjoys spending as much time as she can with her baby girl, Harper, husband and puppy!
Riddle Audiology and Hearing Aid Center 484-227-3200 mainlinehealth.org/riddleaudiology
Frank DeMarinis
Frank DeMarinis is owner and operator of Senior Advisors or Delaware, LLC. His educational background includes undergraduate of Villanova University, Masters at Immaculata University Healthcare Administration, and Certified Senior Advisor. He is married to his wife Melissa whom he met his freshman year of college. They settled in the Delaware area in 1995. Frank and his wife enjoy their spare time with their animals and family.
His early roots were as a therapist for individuals with disabilities. Later completing his licensure as a Long-Term Care Administrator, he managed in nursing and assisted living settings serving seniors. During those 20 years in long term care, he identified an overutilization of institutional-based care and unnecessary services resulting from lack of family involvement and inability for many seniors to navigate the system. Thus, he began offering his services assisting seniors unable to advocate for themselves on a volunteer basis through church organizations and outreach services.
These efforts grew into the establishment of Senior Advisors, LLC as a geriatric case management agency, licensed and insured to manage financial and healthcare matters for seniors. Within the last five years, services have grown from offering "emergency proxy services" to a wide array of activities including Money Management, Representative Payee, Trusts, Guardianship, connecting consumers with available supports, coordination of healthcare needs, and helping in downsizing when senior living options may be necessary.
The agency has created a nonprofit subsidiary 501c3 maintaining a Board of Directors and a mission statement to help seniors stay at home, serving as their healthcare agent and Power of Attorney in case of medical emergency. Frank and his team are very hands on and have done everything for seniors in crisis including maintaining their households, caring for pets, paying utilities and mail services, to safely coordinating their care to get them back home!
Frank prides himself on advocating for seniors and being a resource to individuals trying to plan and protect their personal interests.
[email protected] 610-564-6289 or 800-564-0173 www.AdvancedDirective.info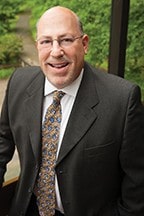 David A. Wilderman, PT, DPT, MS
Dr. David A. Wilderman, founder of Wilderman Physical Therapy was born and raised in Wilmington, DE. He received a BA in psychology/biology from the University of Delaware, prompting him to pursue a career in Physical Therapy. He graduated with a Master of Science degree in Physical Therapy from Arcadia University and a Doctorate Degree in Physical Therapy from Boston University.
Dr. Wilderman's professional experience includes several start-up clinics in Baltimore, MD and Shrewsbury, PA. He was a partner in Shrewsbury Physical Therapy from 2000-2008, then left the partnership to open Wilderman and Associates Physical Therapy, PC in Shrewsbury, PA in 2009. He sold the practice in late 2011 to relocate back to his home state of Delaware. He was a Multi-Site Manager for a national physical therapy company, running 2 clinics in Newark, DE and 1 clinic in Bear, DE before relaunching Wilderman Physical Therapy in 2015.
Dr. Wilderman's specialties include orthopaedic rehabilitation with a particular emphasis on neck, spine, knee, and shoulder rehab, as well as sports medicine rehabilitation, neurological rehabilitation, chronic headache relief, TMJ rehabilitation, and wellness/preventative programs. He has been an active member of the American Physical Therapy Association (APTA) since 1984, the Orthopaedic, Sports, and Private Practice Sections, and is currently on the Executive Committee for the Delaware Physical Therapy Association (DPTA).
Dr. Wilderman founded Wilderman Physical Therapy in order to practice physical therapy in a setting that embodies his philosophy of treatment. He believes in the use of education, individualized attention, and client input in order to help his clients alleviate their pain and physical impairments. Receiving physical therapy at Wilderman Physical Therapy enhances the potential results following an injury or surgery, providing improved function, minimized disability, and less time away from participation in work, family, and leisure activities.
"Providing Expert Care To Help Keep You Active, Mobile, And Free From Painkillers"
David A. Wilderman, PT, DPT, MS Wilderman Physical Therapy @ Delaware Swim & Fitness
4905 Mermaid Blvd., Wilmington, DE 19808 (302)691-9055 [email protected] www.wildermanpt.com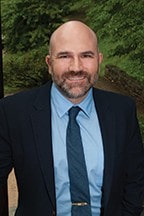 Charles "Ebbie" Alfree III
Charles "Ebbie" Alfree III is the Director of Advancement for The Hickman Friends Senior Community of West Chester, where he oversees development and fundraising. Located in the Borough of West Chester, The Hickman is a Quaker-led, non-profit personal care community with 114 resident suites, including 22 suites in a secure memory care neighborhood with a secure garden.
After earning his Bachelor of Science degree in Communication Management, Ebbie entered the non-profit sector. Prior to his role at The Hickman, Ebbie oversaw marketing and development for Goodwill Industries of Delaware and Delaware County (where he coordinated the filming of three reality shows – A Makeover Story, The Simple Life: Interns, and Trading Spaces Family), AIDS Delaware, and NAMI (National Alliance on Mental Illness) Delaware. Most recently he was the Director of Fund Development and Events for NAMI. While with NAMI, Ebbie oversaw 80 NAMIWalks events throughout the country, annually raising over $10 million. He also had the opportunity to speak and present nationally, including at the William J. Clinton Presidential Library and Museum in Little Rock, AR and at the CBS Headquarters in New York, NY.
Although Ebbie works in West Chester, PA, he and his partner reside in Wilmington, DE. He is a member of the Rotary Club of West Chester and a Board Member of City Theater Company (Wilmington, DE). He was named the 2009 Rising Star of the Year by the AFP (Association of Fundraising Professionals) Brandywine Chapter and earned his Master of Science degree in Organizational Leadership from Wilmington University in 2010. He graduated from Leadership Chester County in 2018.
Ebbie spent many years performing in local theater productions in Delaware and Pennsylvania. He currently writes theater reviews for Delaware Arts Info and articles around senior interests for Chester County publications.
The Hickman Friends Senior Community of West Chester [email protected]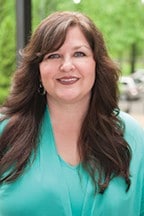 Tara Surowiec
Tara Surowiec was born and raised in Dumont, NJ. In 2004 she moved to Dover, DE where she now resides with her husband and two children.
Being the parent of two children with autism has led her to be an advocate for her own children as well as other families affected by autism. She manages a community support group through Facebook for Delaware families and also assists in setting up monthly Autism Parent Coffee Hours with Autism Delaware.
She has found her calling as a Professional Network Marketer, currently promoting CBD products, and coaching others on how to work from home to have more time with their families. What originally started as a personal journey to find relief for her family from areas such as extreme anxiousness, debilitating head discomfort, joint discomfort, and more, has now become her passion and helps to provide a stable future for her family. She finds great joy in helping others find relief in a natural way and learning to live their best life!
When she's not shuttling her kids to and from school, therapies, and dance practice, she can be found at home with her husband and kids, enjoying their pool, the summer season and quality family time.
www.HealthyThruHemp.com [email protected] 302-241-3000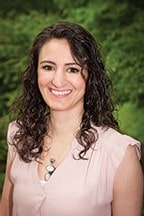 Bianca-Alexis Ferrante, PT, DPT
Dr. Bianca-Alexis Ferrante, a graduate of the University of Hartford, treats women with pelvic floor dysfunction. She recently returned home to Delaware from New England, where she lived since college.
When she graduated, Dr. Ferrante was not sure what specialty to focus on. She proceeded to work in various physical therapy settings (skilled nursing facility, outpatient, acute care hospital, and home health care).
Dr. Ferrante has always been interested in how the body works, especially muscles and coordination. Her various experiences in the different physical therapy settings allowed her to see firsthand how every muscle, tendon, bone, etc., is connected in the body. She quickly witnessed how pain often stemmed from another area in the body, rather than the actual pain location. She observed how manual therapy relieved her patients of muscle pain. She subsequently discovered John F. Barnes' Myofascial Release and quickly became impressed with this technique. Dr. Ferrante now incorporates Myofascial Release into all of her treatments.
While treating rehab patients, Dr. Ferrante saw the correlation between aligning the body and successful treatment of incontinence and pelvic discomfort. The Herman and Wallace Pelvic Floor courses provided her with the knowledge to properly treat these patients. Seeing how women were limiting themselves and not living life to their potential, instilled the desire within her to create an environment that would empower women to heal.
In addition, Dr. Ferrante is fascinated with other "alternative therapies" such as nutrition, Cupping Therapy, Pilates, and Reiki. At Revive, she treats patients holistically by addressing the entire body. Her passion lies in incorporating multiple modalities while encouraging women to be in a constant state of body awareness and mindfulness.
Revive Health & Wellness, LLC 2502 Silverside Rd, Suite 4B, Wilmington, DE 19810
302-482-2237 [email protected]
Thank You . . .

To Our Photographer
I would like to thank Debra Zeccola of Debra Zeccola Photography of Newark, DE for being our photographer for our photo shoots in New Castle, Chester, and Delaware County PA. Debra has over 25 years of experience as a licensed professional photographer. Debra provides her clients with outstanding photography services for weddings and events, family and individual portraits, baby photos and so much more. Debra was an absolute joy to work with, and I couldn't have asked for a more professional and prompt photographer than Debra.
Debra Zeccola Photography 302-239-7193
www.debrazeccolaphotography.com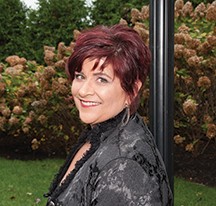 To Our Stylist
I would also like to thank Lori Zaiss,
Owner of Fusion Salon, and her wonderful team of stylist and makeup artists for providing hair and makeup for our shoot. As always it was a pleasure working with Fusion.
Lori Zaiss Fusion Salon
3444 Naamans Road, Wilmington, DE
302-479-9444 www.fusionsalonde.com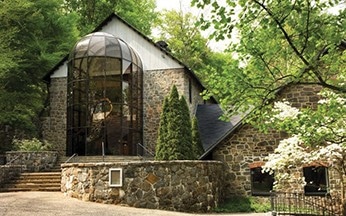 To Our Location
We would like to thank Laura Jury for arranging for our profile photoshoot to be shot on location at the beautiful Hagley Soda House. Contact them for information about receptions, meetings and parties.
Hagley Soda House 298 Buck Road, Wilmington, DE
302-658-2400 ext. 304 www.hagley.org