Girls in white dresses with cream colored sashes…
|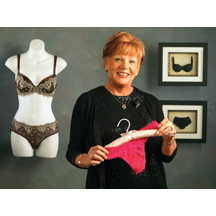 Rice and confetti on your nose and eyelashes.

By Debbie Esslinger, Owner
Anytime of the year can be wedding season, however, no matter when you tie the knot, it will be the most important day of your life. One of your favorite things, of course, will be the purchase of a bridal gown.  Bare Essentials has some very helpful suggestions that may eliminate a lot of headaches.  After 15 years of fitting brides for garments "underneath it all", here are a few tips. Before you make the final selection of your gown, know what types of undergarments are needed to help you be the most beautiful bride you can be.
*If you are a curvy gal, strapless and/or backless gowns can be problematic as these types of undergarments accommodate less of a size range.  Choose a figure flattering style that accentuates your assets.  We carry a vast selection of strapless options, however, bras or bustiers without straps create support challenges. Be realistic about the design and structure of your gown.  You may love the dress, but it may not be the correct style for your body.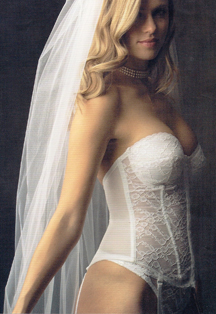 *If you are a petite or missy size, additional push in the bra or shaping of the bust may be needed.  Bustiers with cups for added cleavage or a bra that lifts and separates will help fill in the bust line of the dress.  If needed, Bare Essentials carries a variety of removable and reusable bust enhancing inserts.  Also available are the new backless and strapless bras that can be worn up to 25 times.
*Not sure what type of panty to wear under the dress?  Here is a suggestion.  If you are not accustomed to wearing a thong, boyshort or bikini style, don't let your wedding day be the first time you try one out.  Choose the style that you are comfortable wearing.  There are many sexy and gorgeous panties in lace or satin to match our specialty undergarments.  No matter your preference; our Hanky Panky bridal line will have a match for you.  Many styles have the words BRIDE or JUST MARRIED embroidered in Swarovski crystals.
*Should you need to wear a compression garment to smooth out the bumps and hide the loose areas, there are shapers available that are both functional and pretty.  Don't worry that you will feel or look like a sausage.  We provide many levels of compression from very light to extremely heavy.  We will assist you deciding which level feels and looks the best.
*If possible, bring your dress with you to choose the appropriate undergarment.  Our bra consultants will fit you and assist in finding the right combination of bra and panty styles.  The final touch will be your gown placed on top of your selections to make sure the look is both seamless and beautiful.  Before you leave our store and head to your seamstress, you will know your undergarments are as close to perfect as possible.

Bare Essentials
Bra Boutique
4009 Concord Pike
Wilmington, De 19803
302-477-4888
www.mybareshop.com
Fittings:
Mon-Sat 10-6, Wed 10-8
Visit my new website at www.mybareshop.com