Bridal Issue
|
The 2014 WoJo Wedding!
Thank You To All Our Vendors & Participants!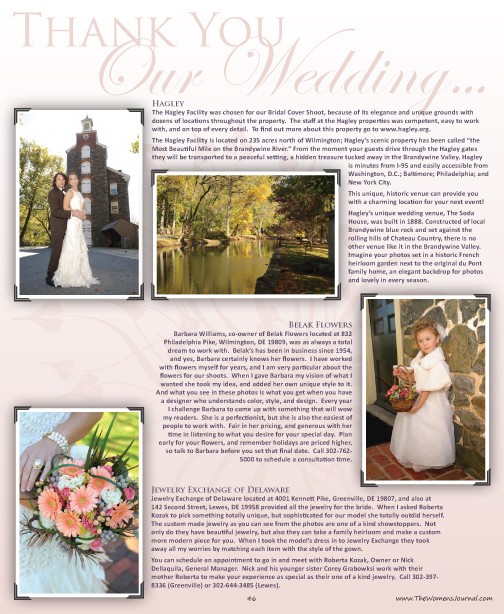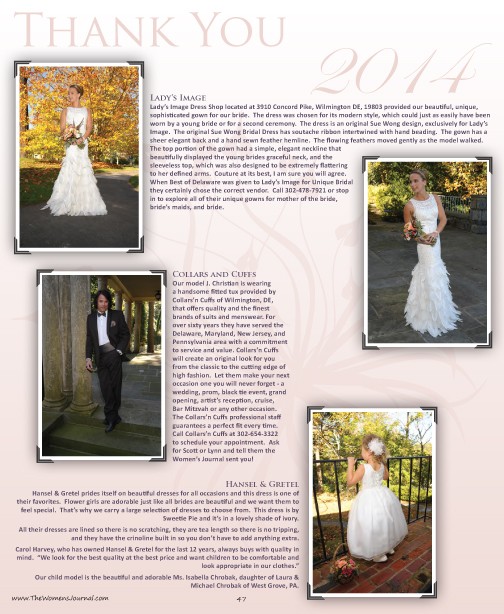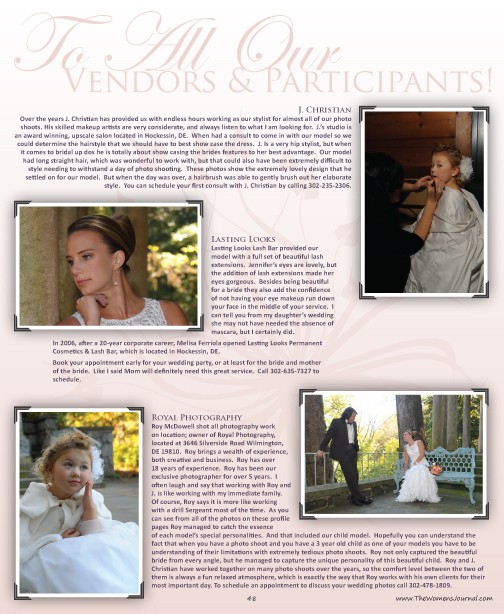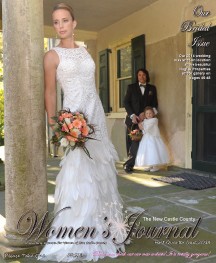 On The Cover…   
I would like to extend a special thank you to the Hagley Properties for graciously allowing us to have our profile photo shoot for this issue at their wonderful properties.
We could not have asked for a more beautiful location, and the staff at the Hagley Properties was probably one of the easiest to work with ever.  If you are considering different properties for your wedding or reception I would highly recommend this one.
I wanted to do an outside shoot, and since we normally do our bridal shoots in the spring or summer I decided to show case the properties in the fall, so that you could see how lovely the weather was and the colors, and I certainly was not disappointed with either.
As always we were blessed with a beautiful model for our Bridal Shoot.  Jennifer Mumford, RN, CCRN, who works with Bayhealth Medical Center in Dover, DE, was very gracious in volunteering to play our bride.  She did admit that since she has never been married that it was a lot of fun, especially when the groom was so entertaining. At the last minute we pulled J. Christian in to our shoot as the handsome groom.  Our flower girl was the adorable, and beautiful Ms. Isabella Chrobak, daughter of Laura & Michael Chrobak of West Grove PA.
I would like to extend my sincere thanks to all of the following for their hard work:
Makeup artistry and hair was provided compliments of J. Christian Hair Salon and his staff- an award winning, upscale salon located at 7465 Lancaster Pike, Hockessin, DE  19707.  For more information or to book your wedding hair and makeup you can contact the salon at 302-325-2306.  I think you will agree they did a beautiful job.
Roy McDowell of Royal Photography provided all photography work.  Royal Photography is located at 3646 Silverside Rd., Wilmington, DE  19810.  Roy is lots of fun to work with, and always manages to put our participants at ease.  For more information call 302-478-1809.  Without all of these wonderful people none of our photo shoots would be possible.  Thank you for your hard work and dedication.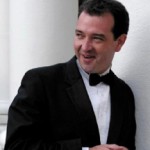 Roy McDowell
Royal Photography's owner, Roy McDowell, brings a wealth of experience, both creative and business, along with an unmatched ability to put people at ease, to every occasion he photographs.Over the past 18 years, Roy McDowell has captured "that" moment for more than 300 brides and grooms and preserved high school memories too numerous to count. Such exposure has led Roy to become one of the most recognizable photographers in Delaware. He creates a lasting impression, not only of an event, but of himself. The pride, precision, and passion he exudes has compelled brides-to-be to track down, "the photographer who took their senior portrait years before". Roy exhibits this same commitment and customer service when working with the many schools and businesses with whom he's managed contracts. "The consumer drives the product I provide; not the other way around". With the help and support of family, friends, and business associates, Roy McDowell strives to achieve his goal of providing an unforgettable experience with superior photographs, exceptional customer focus, and lasting relationships.
Owner of Royal Photography
royalphotographyde.com
[email protected]
302 438 1308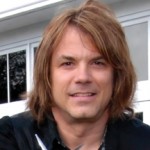 J. Christian
J. Christian is a Master Artist with more than 30 years experience in the beauty industry. Together with his wife Marcy, they own and operate J. Christian Studio, an upscale salon located in Hockessin, DE.  As an International Platform Artist and Master Educator for Sexy Hair Concepts, J. Christian travels here and abroad teaching other Stylists about hair fashion. He regularly teaches at the Institute of Courage, a hair academy established by Michael O'Rourke, founder of Sexy Hair Concepts located in the Topanga Canyon just outside Los Angeles as well as at the Paul Mitchell School in Delaware.
Owner of  J. Christian Studio
jchristianstudio.com
7465 Lancaster Pike
Hockessin, DE
302 235 2306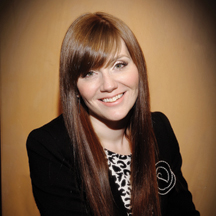 Leisa Kanienberg
Leisa Kanienberg is a Professional Makeup Artist with more than 15 years of experience.  She is also a licensed Managing Esthetician, Nail Therapist and Instructor and graduated from the Aveda Fredric's Institute in Cincinnati, Ohio.  In 2006, Leisa established iMakeup Artistry so that she could offer her makeup services independently.  Her expertise includes beauty, bridal, film, television, editorial photography and fashion runway – having worked backstage at fashion shows such as Vanity Fair's Fash Bash.  Her work has been featured on NBC and a recent episode of "Cake Boss," as well as published in several magazines including Fusion Flowers, and the cover of Missy Ink. Leisa's favorite aspect of Makeup Artistry is beauty and bridal makeup, working with her clients in creating a new look to accentuate their personal features.
Owner of  iMakeup Artistry
513 207 0550
iMakeupArtistry.com
Facebook.com/iMakeupArtistry