Window Treatments & Energy Savings. Style and Comfort Combined
|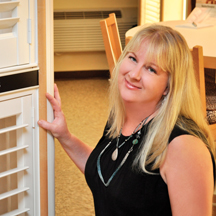 Presented By Margie Booth, President 
Article By Erin Gernon
At Home Designs, a fine window fashion and interiors studio located in Hockessin, showcases dozens of displays in their Hunter Douglas Gallery Showroom. A known leader in energy efficient window furnishings, Hunter Douglas has been contributing to energy savings since 1985 with their invention of the Duette® honeycomb shades.
"It's not just about having a beautiful treatment, it's really necessary now to make your room more comfortable", said Margie Booth, founder and president of At Home Designs. "When you have the proper window treatments, it can change the whole atmosphere in your home. Blocking out strong summer sun can make your living space more comfortable and usable year round."
Investing in energy efficient windows is especially important in today's climate, where controlling the flow of hot and cold air in and out of windows can dramatically reduce heating and cooling costs.
According to the U.S. Department of Energy, up to 50% of a home's heat can be lost during the winter months, and roughly 40% of a home's unwanted heat enters through its windows in the summer.
"Many people don't realize how much heat escapes from their windows in the winter and how much warm air enters during the summer", said Shelly Booth, the Marketing Manager of At Home Designs and Margie's daughter. "It's the best of both worlds; you get energy efficiency and beautiful blinds", Margie said.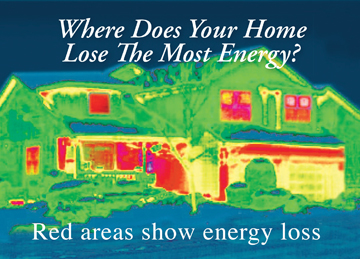 In April, Hunter Douglas released their most energy efficient window covering to date, the Duette® Architella® Trielle.  "The new Trielle model now contains three honeycomb layers", Margie explained. The unique construction of triple layers of a honeycomb-within-a-honeycomb creates five pockets of fabric that trap air. This extra layer of insulation makes the Trielle 20% more energy efficient than previous models and can reduce total energy loss by up to 50%.
With so many alternatives and combinations, the process of buying the right window furnishings can appear overwhelming. "That's where we come in. There are products that can fit into any décor, whether traditional or modern", said Margie, who has over twenty-six years of experience in the home fashions industry. "We work closely with our clients' needs and their aesthetic to ensure that they have beautiful, lasting window treatments. In our Gallery Showroom you can see and operate the different products and lift systems that Hunter Douglas offers.  It really makes a big difference." At Home Designs recently completed an expansion of their main showroom.
"We really needed more space to show people how wonderful these products truly are", Shelly said.
"We want customers to be able to see, touch, and operate our products so they can really get a sense of what we have to offer."
In addition to blinds and shades, At Home Designs also specializes in custom draperies, top treatments, bedding, and re-upholstery.
"One of my favorite things to do is refurbish an old piece of furniture.  I love to take traditional frames and put a fun or wild fabric on it.
We offer one of a kind pieces that I have redesigned to fit into today's current look", Margie added.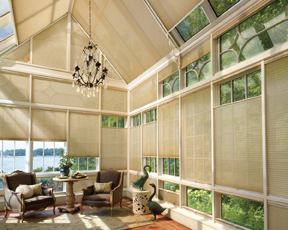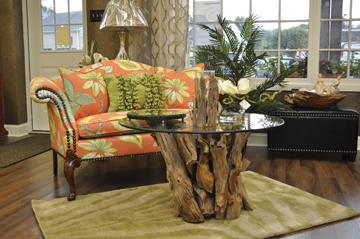 If you are looking to redecorate or want to make your home more energy efficient, please come see us!
 At Home Designs is located in Hockessin, one block north of the Wawa on Rt 41, next to the Perfect Cup Cafe.
302.239.1520
Testimonials
Thank you for your help in choosing just the right shades and blinds for our new home. Your quick installation throughout our whole house was amazing! We are very happy with the result and we highly recommend you and your products. ~ John and Erin; Wilmington ,DE
Margie, We just want to say thanks for helping us pick out the blinds for our house, they look great. We can't say enough about your service and our satisfaction. We will be sure to keep you in mind for our future needs and will gladly pass your name on to our friends. Thanks again,  ~  Jean and Sam; Garnet Valley, PA