Why Would Anyone Choose To Work As A Hospice Nurse?
|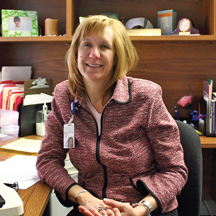 Delaware Hospice's Eileen Challenger, BA, RN, CHPN, Care Manager, explains why she wouldn't do anything but be a hospice nurse!
Eileen Challenger , BA, RN, CHPN, Care Manager
Eileen Challenger was born and raised in north Wilmington, earned her Bachelors Degree in Psychology from the University of Delaware, and several years later, returned to studies at Cecil County Community College where she completed her Nursing Degree.
She said, "My initial career was working with people with disabilities at Elwyn, and then for the state of Delaware as a Case Manager.  One day, I was reading about the nursing shortage and thought, "Hmm, I can probably do that," so I decided to go back to school and become a nurse.  Somewhere along the way, perhaps from my multi-disciplinary background, I discovered the field of hospice nursing and knew that it would be a perfect fit for me.
Eileen met a Delaware Hospice representative at an information session in 2007, learned about the organization, contacted Human Resources, and her goal of working for a hospice provider was accomplished!
Mary Jane Schwab, Clinical Supervisor for New Castle County, has worked closely with Eileen since she joined Delaware Hospice and enthusiastically praised her qualifications:  "She is so detail-oriented that she catches things before they even occur.  She's on top of things, clinically, and knows what needs to be done and how to get it done.  Eileen is great at directing our patients' plan of care.  She loves the staff, appreciates what they do, and makes it known to them that she appreciates it.  Likewise, our nurses think highly of her.  She is easy to direct, listens to guidance and she has a heart for this work."
Delaware Hospice provides extensive training for its clinical staff, including assigning preceptors—experienced nurses who mentor new hires.  Eileen said, "I still remember the great advice my preceptor gave me.  I had always been comfortable with people and going into their homes as I had done this type of work in my previous positions.   To be a good Delaware Hospice staff nurse, I had to learn more about the mechanics of end-of-life and found the on-the-job training to be excellent, both in the classroom and through my preceptor.  The book and on-line education is important, but you also have to experience it to really learn.
Eileen's education didn't end there.  She joined other members of Delaware Hospice's clinical staff in voluntarily pursuing professional certification in hospice and palliative care, which she received after a year.  She remembered, "This was quite difficult but definitely worthwhile."
With Eileen's attention to detail and expertise as a case manager, she was promoted to Team Leader two years ago, and just recently to Care Manager.
"This is a win-win for me, because I'm excited that I will now be able to be back out in the field to see patients.  This is the aspect of hospice nursing that I love more than anything—being with the families."
Having served as a hospice nurse for several years now, Eileen is more convinced than ever that this was the right choice for her.  "What I wanted as a nurse was more of a relationship with my patients and their families than you can have in an acute care setting, where most people are there for three days and then gone.  I wanted to learn more about these people than you possibly can working an 8 hour shift in three days."
"Also I love how hospice involves a team approach, including the physician, nurses, chaplains, social workers, and nursing aides, and the emotional, physical and spiritual aspects are  all intermeshed.  You're exposed to all of it—you can't work in this field in a silo.  You can't just be a nurse, and not be concerned with what other things are going on with the patient, family and environment.  When you become aware that this person is having significant emotional issues, you call a team member.  If you understand that spiritual questions are weighing down this person, you call a team member.
Delaware Hospice staff members and volunteers always claim that their greatest motivation for continuing to serve stems from the patients and families, themselves, and the love and sacrifices witnessed each and every day.
Eileen agrees, and said that there are many people that she will never forget.   "For example, one patient was with us for awhile with the ups and downs of her disease.  I knew her so well and her routine, that with each visit, I would make a cup of tea to leave for her when I was leaving.  This was important to her, as it was for me.   I used to always ask my patients if there was anything they needed me to do before I left—don't ask me to clean the windows!  But I have made a sandwich or fed a cat on occasion—not what a typical nurse does."
"Another patient decided she was ready to go, and planned her memorial service so that she could say goodbye and give things away while she was still here.  I attended that memorial service and then left for a two-week vacation.   On my return, she had gone downhill quickly, and hadn't spoken for days.  When I approached her bedside, she said, "I need you, Eileen."  That was the last she spoke, and passed away two days later.   This was an incredible and most unforgettable gift to me."
There are very sad moments in hospice nursing, but they are well balanced by the ability to help a patient and family through those difficult moments.  Eileen said, "End-of-life is something we can't change, but we can help make that experience the best it can be for our families.  I love what I do and can't imagine doing anything other than hospice work."
Another thing she's learned over the years is good advice for all of us:  "Life is short.  Enjoy what time you have.  Don't wait to settle things.  If you have something you want to do on your bucket list, don't wait!"
Photos and story by Beverly Crowl