Change Your Look And Your Outlook, With Just One Tooth
|
By Anna Marie Mazoch, D.D.S.
At times, just one or two teeth don't look quite right. You may not know why or it may be a very obvious problem, such as a crooked tooth. You may wonder, what can I do about this problem?
My patient, Miss A., is a 27 year old who was unhappy about her "snaggle tooth". Her canine (or eye tooth, the tooth that people refer to as a vampire tooth) looked too pointy and there was a space between the canine and the lateral tooth. She felt that, when she was introduced to people, it was the first thing they noticed. She asked me, what can I do?
A skilled dentist will make diagnostic models and photographs of the teeth so that the bite, the fit and the look of the teeth can be studied. In Miss A's case, her "problem" tooth was rotated slightly and was protrusive. Protrusive means that the tips of the teeth stick out rather than being more straight up and down. Also, when the tooth is protrusive, the bold body of a strong tooth such as the canine appears weak and recessed. So, what can be done?
Porcelain veneers are always an option when you want to change the appearance of the teeth. In Miss A's situation, however, she had no preexisting fillings and the shade of the tooth did not need to be changed, so shaving tooth structure down for a porcelain veneer would, in my opinion, be a drastic and more costly measure. We decided instead to reshape the enamel slightly and place a bonding. "Bonding" is a procedure where composite resin material is placed over the front of the teeth to change the shape, color and/or appearance of the teeth. Resin is the same material that is used for tooth colored fillings; it is just used in a different manner. It is often a preferred material over porcelain for younger patients as it is usually much more conservative and can easily be removed and replaced with porcelain, if necessary, as the patient ages.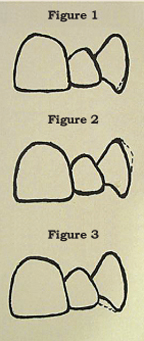 Planning this case involved recontouring the tooth and performing a "mockup" both on the model and in the patient's mouth. This allowed us to agree upon the look she and I wanted to achieve. Forming a thoughtful scheme prior to her bonding allowed me to successfully and easily achieve our goal. For Miss A., I first reduced the tip of the tooth to bring it back to the position it would naturally be in (figure 1).
Second, I increasedthe neck of the tooth, by the gum line, to give the tooth more prominence (figure 2).
And last, I filled in the space to the front of the tooth (figure 3).
Dr. Anna Marie Mazoch received her B.S. degree in Biology, summa cum laude, from Ohio University and her D.D.S. from Northwestern University. She is a member of the American Dental Association, the Delaware State Dental Society and several local dental study clubs. She has been practicing general dentistry for 32 years, first in Cincinnati, then Montpelier, Vermont, and the past 11 years in Delaware. Her keen interest in continuing education for herself and her staff stems from a quote by G. V. Black, the first dean of Northwestern University Dental School and the father of modern dentistry: "The professional (wo)man has no right to be other than a continuous student".
Miss A. is delighted with her new tooth. She can smile again with confidence. My team and I hope you will trust us with your dental needs, as did Miss A. Please read her testimonial:

2601 Annand Dr., Suite 18, Wilmington, DE 19808
We are conveniently located near the corner of Kirkwood Hwy and Milltown Rd, near Pike Creek and Milltown shopping center.
Email:
Visit us on facebook
Phone: 302-998-9594
Fax: 302-998-8207