Where Do We Go From Here?
|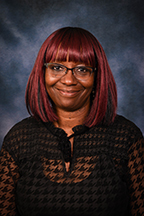 By Andrea Waters, LCSW
Pathways to Success/Pathways to Well-Being Program Manager
All of us have experienced the challenges and stresses of Covid-19 and beyond. Working from home and feelings of isolation. Losing our job. Witnessing friends or a family member die from Covid-19. Making sure our children and grandchildren were well taken care of and fed, and the list goes on and on. But even though none of that is our fault, we beat ourselves up. "I should've, I could've, I would've" goes around and around in our heads. We oftentimes think of others before we do ourselves. Now, what do we do with that? "How can we stop it? Where do we go from here?" In my experience, we need to shut off the "should've, could've, would've" and replace it with self-care, self-worth, and self-confidence. No more beating ourselves up; but learning to create a healthy balance. Self-care is so important. To care for others, we must take care of ourselves, physically and mentally. One of the women I treated was going through a very challenging time. We talked to each other, and then about her need for self-care. We were able to develop a self-care plan. I encouraged and guided her as she transitioned to owning her own business —all the while being a single parent of three children. Questions you can ask yourself are:
• Have you ever felt overwhelmed?
• Have you ever felt inadequate?
• Have you ever felt emotionally drained?
If you can answer yes to any of these questions, consider yourself a candidate to practice self-care. You can practice the following self-care techniques:
• Recognize negative self-talk (when automatic thoughts in your head say, "I can't.").
• Take 10-15 minutes daily to decompress (quiet time, listening to music or deep breathing).
• Rest, exercise and stay hydrated.
• Pamper yourself (get a manicure, pedicure, make a hair appointment, treat yourself to a spa day).
• Acknowledge and celebrate small successes and accomplishments.
You can talk to us. The Pathways to Well-Being program was founded during that dark time in 2020 as we realized more and more of the Pathways to Success students needed additional attention and care. Now we are ready to help our community as well. So, if you need support, please contact me at 302-858-4861, ext. 303 or cell 302-535-6716. Email is
[email protected]
. If you're uninsured, we can help with that. If you don't know where to go, you can come here. We will work on "Where Do We Go From Here" together!
302-858-4861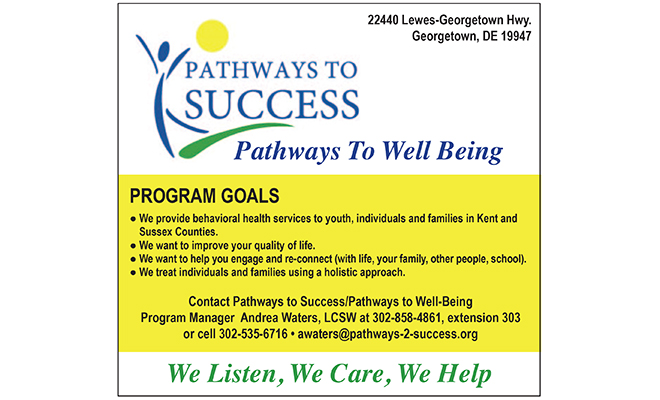 PROGRAM GOALS
● We provide behavioral health services to youth, individuals and families in Kent and Sussex Counties.
● We want to improve your quality of life.
● We want to help you engage and re-connect (with life, your family, other people, school).
● We treat individuals and families using a holistic approach.