DLAS – Delaware Libraries Access Services
|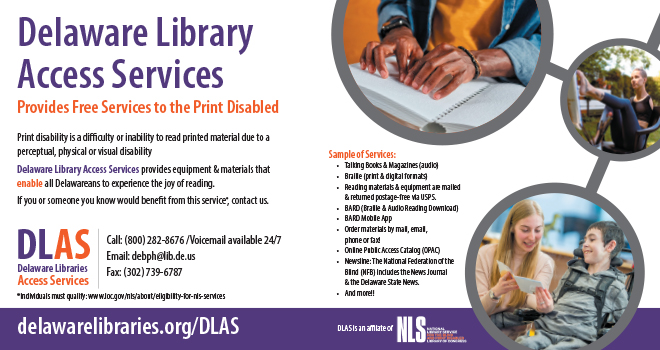 Delaware Library Access Services Provides Free Services to the Print Disabled Print disability is a difficulty or inability to read printed material due to a perceptual, physical or visual disability Delaware Library Access Services provides equipment & materials that enable all Delawareans to experience the joy of reading. If you or someone you know would benefit from this service, contact us.
DLAS – Delaware Libraries Access Services
Call: (800) 282-8676 /Voicemail available 24/7      Email: [email protected]     Fax: (302) 739-6787
*Individuals must qualify: www.loc.gov/nls/about/eligibility-for-nls-services
Sample Of Services
• Talking Books & Magazines (audio)
• Braille (print & digital formats)
• Reading materials & equipment are mailed & returned postage-free via USPS.
• BARD (Braille & Audio Reading Download)
• BARD Mobile App
• Order materials by mail, email, phone or fax
• Online Public Access Catalog (OPAC)
• Newsline: The National Federation of the Blind (NFB) includes the News Journal & the Delaware State News.
And More